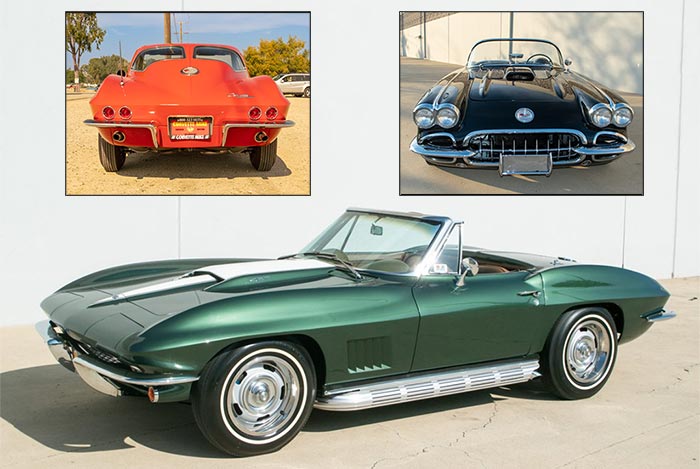 January is your author's birthday month you've only got about 10 shopping days left to get him that special something. To help in your search for that perfect gift, we present these three stellar Corvettes currently available from our friends at Corvette Mike in Anaheim, California.
Corvette Mike has been buying, selling, and consigning Corvettes for 40 years now. Over that timeframe, they've helped countless enthusiasts find that Corvette of their dreams. Whether you're looking for a meticulously restored C1 or a factory fresh C8 Stingray, Corvette Mike can hook you up. Check them out online or give them a call at 714-630-0700.
1963 Corvette Split Window Coupe
When it comes to the collector Corvette food chain, there's not much above the 1963 Split Window coupe. The 2nd generation Corvette rocked the automotive world when it made its debut. With its radical styling, independent rear suspension, and diversity of options, it was nothing like the world had seen before. The most notable feature was the now-iconic two-piece rear window. While not overly popular back then, today collectors will stumble over one another like a Black Friday sale to get their hands on one.

We showed you this 1963 fuelie coupe last month, but it's so good it, deserves another turn in the spotlight. The Riverside coupe recently went live on Bring a Trailer and immediately rose to $151,963 as of this writing. Everyone wants a Red on Black Corvette and this is clearly the one to have.

Chevrolet made 21,513 Corvettes in 1963. This Sting Ray is one of 2,610 with RPO L84, the fuel-injected 327/360hp engine. That V8 is mated to an M20 4-speed manual which was chosen by 17,983 buyers. Other options include power windows, AM/FM radio, and 3-bar hubcaps wearing whitewall tires.

Today the car is fresh out of a comprehensive frame-off restoration. Everything shows as new from the matching numbers fuelie engine to the black vinyl interior. Documentation includes the NCRS Shipping Data Report (showing Clippinger Chevrolet) and affirmations of the engine Stamp Pad and Trim Tags by Al Grenning's CCAS service.
This 1963 checks all the collector Corvette boxes: Spilt Window, Red/Black, fuelie, fresh resto, and nice documentation. Grab it now while you can.

1967 Goodwood Green on Saddle 427/435 Convertible
The short-lived C2 era ended in 1967 after just 5 model years. Many consider 1967 the best Corvette year ever and this Sting Ray certainly supports that belief, especially with its Goodwood Green paint and Saddle color interior.

1967 marked the first year of the thumping 435hp L71 engine with its chrome triangle air cleaner hiding three 2-barrel carbs below. That's also the same year we were gifted the legendary L88 engine. While only 20 buyers selected RPO L88 that year, 3,754 smarties did purchase a car with the L71 under the hood. It also gave us arguably the best Corvette hood of all time when the "stinger" debuted on big block cars.

Goodwood Green was the most popular 1967 color with 4,293 units produced. That amounts to just under 19% of total production. When coordinated with the Saddle you have got a classic combination that can't be beat. Similar combos can be found on C3's, C4, C5's, and C7's.

Corvette Mike's 1967 L71 convertible is equipped with all the most popular options. In addition to a 4-speed transmission, you'll find side exhaust, F41 suspension, and a 4.11 rear end among others. It's the recipient of a nut and bolt frame off restoration and presents in as-new condition. It's documented with the tank sticker and has won a NCRS Top Flight award.

1959 Black on Fawn Convertible Restomod
If the NCRS and Bloomington Gold route isn't for you, then check out this fantastic custom black 1959 convertible. This Corvette just screams Southern California cruising.

The car was originally purchased, like many, for the purpose of drag racing. The rumor mill reports that the 3,106 miles shown were acquired on the drag strip. That's 12,424 passes if you're keeping score at home. While there's no way to confirm that legend, we can confirm that this is one way cool Corvette.

The car was restored about 20 years ago into the form we see today. The 1990's provide the Tune Port Injected L98 engine under the hood and MN6 6-speed manual transmission behind it. Other late model amenities include independent rear suspension, disc brakes on all 4 corners, and power steering. Our favorite features are the classic Torque Thrust wheels, custom hood scoop, and the column-mounted tachometer.
Add up all the above items and you've got a car that we're itching to hop behind the wheel of and hit the Pacific Coast Highway.

Bonus – 1962 Corvette 327/250-hp
The Bring a Trailer auction for this Roman Red 1962 Corvette also went live over the weekend and with five days left, bidding has reached $37,500. The Red/Red convertible has a matching number's 327/250-hp V8 mated to a 3-speed manual transmission, and also includes a removable hardtop, Wonderbar AM radio, heater, seat-belts, and spinner-style wheel covers.

To learn more about these three highly collectible Corvettes for sale or to view the other collector Corvettes offered by Corvette Mike, visit them online at CorvetteMike.com or give Tim a call at 714-630-0700 and let them know you found these Corvettes on CorvetteBlogger.com!

Source:
CorvetteMike.com