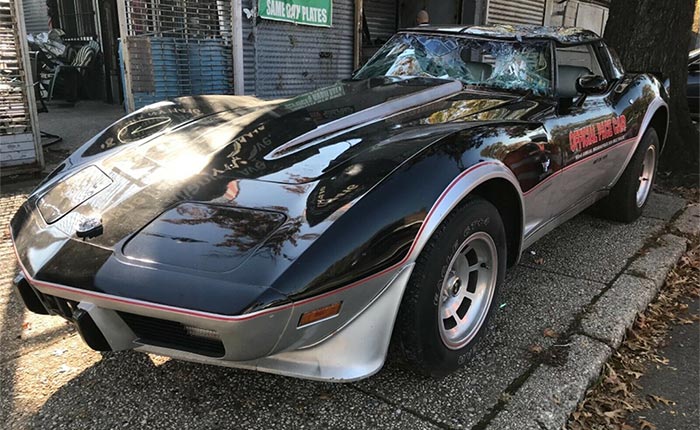 If a tree falls in a forest and no one is around, does it still make a noise?
We don't know the answer to that age-old question for sure, but we do know that if said tree happens to fall on top of a Corvette, it definitely creates some damage.
That's the story behind this 1978 Corvette Indy Pace Car that recently had the misfortune of being in the path of a falling tree.

Now being offered on eBay at the Buy It Now price of $11,950, the car will need all new glass, including the windshield, windows, and back glass, after the tree appears to have knocked a hole in the windshield when it fell and taken all the glass with it.
No word on how long ago the damage was done, but it's a little worrisome to see black mold already growing on the seat covers, armrest, and console, presumably from exposure to rain. Hopefully, that will clean up pretty easily because the rest of the interior appears to be in decent shape for a 44-year-old C3.

The odometer shows right at 75,000 miles, so this would be a car that a new owner wouldn't be afraid to drive like some of the ultra-low-mileage storage queens from back in the day when everyone thought the Pace Car would be an instant collectible thanks to a Wall Street Journal story back in 1978.
Besides the glass damage, the new owner will need to replace the glass T-tops and also fix a small break in the passenger side fender.

On the bright side, the owner says this Corvette "starts right up with a jump" and calls it a "good running car" with a "nice exhaust sound."
The owners say they were going to repair the car themselves but have too many projects at the moment and are putting it on the market.

With only 6,502 of these Pace Cars produced, every one of them is important to preserve for future generations. Would you be willing to take on this project? Personally, I'd rather pay more and get a car in top-notch condition because to be super nice, this one is going to need a new paint job and interior, for starters.

Source:
eBay

Related:
Chevy to Offer 1st Retail 2023 Corvette Z06 for Charity at Barrett-Jackson Scottsdale
What Happened to this C8 Corvette to End Up at a Copart Insurance Auction
Corvettes for Sale: 1976 Corvette with 4-Speed Offered at No Reserve on eBay