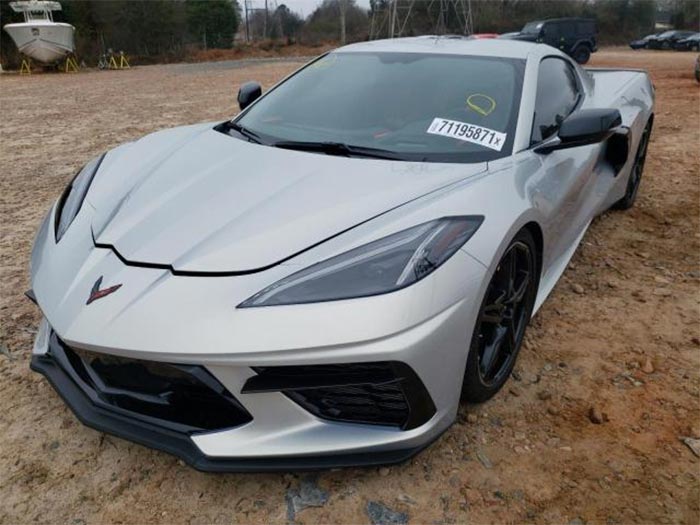 Photo Credit: Copart

Over the past couple of years, we've shown you badly damaged C8 Corvettes up for auction after accidents left the cars in shambles.
That's definitely not the case with this 2022 Corvette Stingray that shows just 358 miles. If you didn't know better, you'd swear this Blade Silver over two-tone Adrenaline Red and black interior mid-engine beauty is ready to head to the next car show.
The only clue to the damage that apparently was enough to make the insurance company total the car is the listing information under Primary Damage that simply says: "Undercarriage."
Looking at the photos, however, we see the front splitter, side skirts, and rear diffuser remaining in perfect condition, so a curb roll-over seems unlikely. The only visible hint of damage is one of the rear strut towers where the electronically-controlled damper on the driver's side is now visible and will need repairing.

Copart has this Corvette listed at its China Grove, North Carolina site and says it will be auctioned off in an "upcoming lot."
This 2LT Stingray would likely have had an MSRP in the upper 70s or low 80s, but Copart says its estimated retail value is a whopping $108,346. Even with the crazy resale market these days, we don't see this car cracking the century mark. If the damage is severe enough for the insurance company to give up on it, we wonder if the car would now have a salvage title, limiting its value forever.

Perhaps some of our readers know what actually happened to this car and can fill in the shadows lurking around it.

Source:
Copart via carscoops.com

Related:
This Heavily Damaged 2021 Corvette Is Ready For You To Make An Offer On It
[ACCIDENT] Heavily Damaged 2020 Corvette For Sale on Copart Auction Website
[PICS] Yet Another Wrecked 2020 Corvette Stingray Listed for Sale on Copart