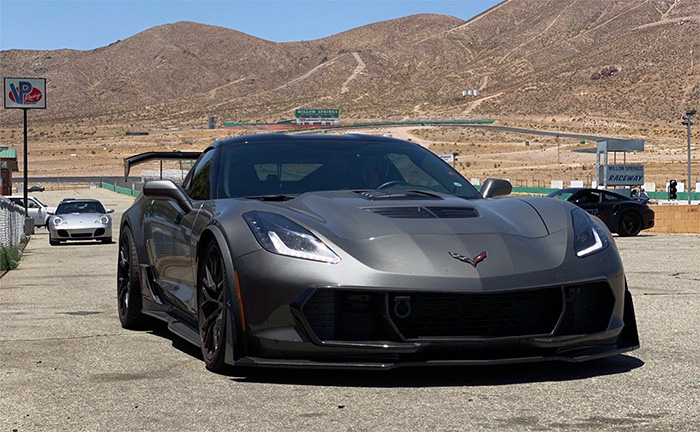 Last year Callaway Cars announced they would celebrate the 25th Anniversary of their German-based sister company Callaway Competition with a limited edition 25th Anniversary Callaway Z06 SC757. The C7 Z06-based package adds their SC757 supercharger for 757 horsepower and 777 lb-ft of torque, the signature Double-D sport exhaust, and it features a host of chassis upgrades and design elements based on their successful ADAC GT Masters GT3 race car.
Perhaps the most important upgrade Callaway makes to a customer's Z06 is the cooling system as it's known that stock C7 Z06s can be negatively impacted by high temps while on track. Behind the 25th Anniversary's distinctive oversized front grille is Callaway's HD Cooling System that adds an additional engine oil cooler and two high-flow heat exchangers dedicated to the supercharger's intercoolers.

In a video posted to YouTube, Pete Callaway drives a customer's 25th Anniversary Callaway Z06 SC757 equipped with a 7-speed manual transmission and the Level 2 HD Cooling package during a 25-minute session at a Speed Ventures track day at Willow Springs. To set the table, the racing session was held in the afternoon following an earlier on-track session, and a two-hour heat soak where the car sat under the blazing 110-degree plus temperatures. The laps were captured with in-car video along with the Corvette's PDR while instrumented temperature data is shown in real-time on the screen.
As the video starts, you'll also see the familiar face of Austin Everett aka Speed Phenom who did a walk around the 25th Anniversary SC757 at Laguna Seca in mid-June with the car's owner Tom and Pete Callaway.

At the end of the racing session, Pete does a cool down lap and while he does that we can see the car's health report from the Performance Data Recorder showing key metrics before and after the racing session:

The comments on the youtube video are also full of technical discussions if this subject interests you. Callaway Cars also acknowledges that HD Cooling package is also available to Z06 owners who don't want to do the full SC757 upgrade:
While HD Cooling Systems work best with the Callaway GenThree(™) supercharger system, they also perform well with otherwise stock Z06 Corvettes. Now you can focus on improving your lap times without fearing the uncontrolled rise of the temperature gauges and the dreaded "limp mode". In fact, during testing, Callaway engineers reported a significant improvement in overall performance as power was not lost by running at higher temperatures for extended periods.
You can see more about the 25th Anniversary Callaway Z06 SC757 and the HD Cooling System at CallawayCars.com.

Source:
Callaway Cars / YouTube

Related:
Callaway Offering New 25th Anniversary Callaway Corvette Special Edition for C7 Z06s
[VIDEO] Callaway Shows Off New Aluminum Alloy Wheels for the C8 Corvette
Callaway's Famous Sledgehammer Corvette Offered for Sale on Bring a Trailer