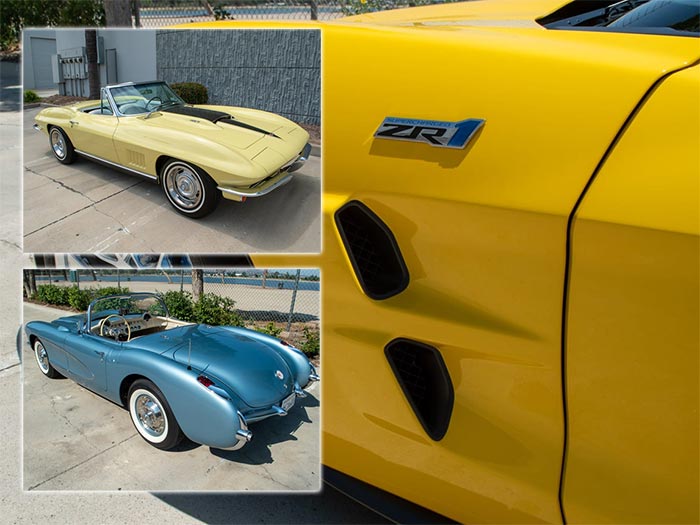 If there's one thing this pandemic has taught us, it's an appreciation for what we have and for living life to the fullest! That's one of the reasons why people enjoy their Corvettes so much. It's that somewhat indescribable feeling you get when sitting behind the wheel of America's Favorite Sports Car!
Today, we are going to take that philosophy to heart as we take a deep dive into the Corvette inventory of one of the premier Corvette dealers in the country, Corvette Mike of Anaheim, California. There we found three collector-grade Corvettes that we think enthusiasts such as yourselves would enjoy to the max!
2010 Corvette ZR1 in Velocity Yellow with 16 Original Miles

We'll never forget the hype that surrounded the return of the ZR1 in 2009 as Chevrolet offered its first factory-supercharged Corvette. The ZR1 was nicknamed the "Blue Devil" by the Corvette Team to curry favor with then-GM CEO Rick Wagoner who was a Duke alumnus, and the original premise for its creation came in the form of a question: How much performance could the Corvette team offer in a $100,000 car? That answer was the 6.2L LS9 that produced a whopping 638 horsepower, 604 lb-ft of torque, and it could propel the Corvette ZR1 to a top speed of 205 MPH.

Corvette Mike has this Velocity Yellow 2010 Corvette ZR1 for sale and it's waiting for a new caretaker who will appreciate the opportunity to buy what is essentially a brand new car as it comes with the original Monroney sticker still affixed to the windshield, plastic still, and an odometer showing just 16 original miles. If that's not enough creds for this collector car, it's offered in Velocity Yellow which was the rarest color in 2010 as only 89 ZR1s were offered with it.

The ZR1 options were limited as essentially everything you could want was included in the 3ZR Premium Equipment Group which this car has. It includes the custom leather-wrapped interior, a Bose premium 7-speaker sound system, and a number of passenger comforts like heated adjustable sport bucket seats, Bluetooth, and a NAV system. This 2010 ZR1 also comes with the chrome ZR1 aluminum wheels, an indoor car cover, and performance pedals.
Just 1,577 Corvette ZR1s were produced in 2010 with this brand new Corvette coming off the line as number 217. Corvette Mike is offering it for $139,900 so if want to find out more about this highly collectible "Blue Devil" in Velocity Yellow, visit Corvette Mike.
1967 Corvette 427/400 with Factory A.C.

Collectors know all about the 1967 model year Corvettes which are considered to be one of the best Corvettes ever made. Chevrolet cleaned up the mid-year body with most of the badges removed and a new design for the front quarter panels with five vents instead of the three as are found on the 1965-66s. And then there are the engine options which were plentiful with two 327s and four 427s offered. If you want to step up into rarified air, this 1967 Corvette Convertible could just be the ticket.

The 1967 Corvette Convertible is an original west coast car that was originally sold by Madison's Chevrolet in Scottsdale, AZ. The specs of the car have us thinking the owner wanted that top-down driving experience that the mid-year Corvettes are famous for, yet living in the southwest where triple-digit temps are common is most likely the reason why the original owner selected the factory air conditioning which Corvette Mike tells us still blows cold today.

The Sting Ray comes in Sunfire Yellow with a Black Hood Stinger, a white leather interior, and a white soft convertible top. It's powered by a matching-numbers L68 427/400-hp big block which is marked by the triangular air cleaner that sits atop three two-barrel carburetors. You pop the hood on this car at any show and that tri-power V8 engine will surely reel in the spectators. As the selection of the factory air shows, the original owner wanted a refined sports car so this one also comes with power steering, power brakes, power windows, telescopic steering column, and the AM/FM radio.
This 1967 Corvette has been completely frame-off restored and comes with a huge binder full of information including the owner history, photos, restoration details, and more. It's already been judged NCRS Top Flight and is ready for your enjoyment. Offered for $164,900.
1956 Arctic Blue Corvette Convertible

The 1956 Corvette featured the first redesign for the model which both improved upon the original design while also making it more driver-friendly. It was the first model to receive the distinctive coves on each side of the car and it was also the first model to introduce roll-up windows. Chevy officially retired the Blue Flame straight-6 for the V8 engine the previous year and now two different V8s were offered in a 210-hp and 225-hp configuration, while a third option added a special high-lift camshaft that boosted the 225-hp engine's output to 240 hp. Buyers also had two transmission choices that included the two-speed auto or the three-speed manual.

The owner history is well-known for this car as it was owned by a longtime NCRS member and Foundation Chair who purchased the 1956 Corvette disassembled from the previous owner, but he wasn't able to complete it and it ended up being sold. The new husband and wife owners enthusiastically began their quest to restore the Corvette but unfortunately, he passed away suddenly before it be could be finished. The car would sit from 2008 until 2013, and then it was purchased once again with the latest owner starting over with a full body-off restoration that was finally completed in 2017.

This 1956 Arctic Blue Corvette Convertible offers a beautiful beige interior and white canvas top. It's powered by the aforementioned 265/225-hp V8 small block that's coupled to the three-speed manual transmission.
At its first showing with 94 other Corvettes, it was awarded both the Best in Class and Best in Show trophies. From there, it was entered in the NCRS Rocky Mountain Chapter where it was awarded Top Flight, and it earned another Top Flight award at the Scottsdale, Arizona Regional Show in May 2018. Corvette Mike is offering the 1956 Corvette/ for $114,900.
To learn more about these three highly collectible Corvettes for sale or to view the other collector Corvettes offered by Corvette Mike, visit them online at CorvetteMike.com or give Troy Worrell a call at 714-712-0060 and let them know you found them here on CorvetteBlogger.com!

Source:
CorvetteMike.com