Today is the date we had circled on our calendar for the release of the Order Guide and we learned that it just became available this afternoon. Click here to view and download the 2022 Corvette Order Guide.
The Corvette Order Guide is an essential planning tool for those that really like to get into the weeds when it comes to customizing your 2022 Corvette order. It shows all the equipment and options available as well as which options are standard, optional or not available on both the coupe and convertible models.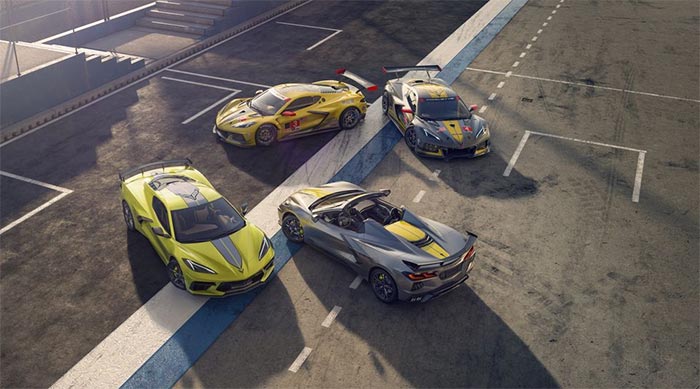 We've pretty much covered what is new for the 2022 model year already over the last few weeks, but to recap, the 2022 Corvette will get three new colors called Hypersonic Gray, Caffeine Metallic, and Amplify Orange, the IMSA GTLM Championship Edition for Coupe/Convertibles, as well as a new low-profile spoiler.
It also looks like customers will be able to add more Carbon Fiber to their 2022 Corvette orders. We found these items on the Order Guide which were not previously mentioned by the Corvette Team, although we've covered them before. The third item on the list (5V7) appears to be a new front splitter based on the requirements.
LPO RWJ Visible Carbon FIber door intake trim
LPO 5Z5 High Wing Spoiler in Visible Carbon Fiber
LPO 5V7 Black Ground Effects

We are assuming that ordering for the 2022 Corvettes will start this month based on past comments from the Corvette Team at the NCM Bash this year, and we know from an earlier leak that the GM Workbench order system is set-up with all the info for the 2022 model year.
Chevrolet has also announced that it is raising the prices on the 2022 Corvette Coupe and Convertible models by $1,200. It's also possible that several individual option prices could be going up as well. We're still waiting for the full price list to drop which we expect will happen right around when 2022 ordering begins.
Click here to view and download the 2022 Corvette Order Guide.

Source:
Chevrolet

Related:
[PICS] Chevrolet Shares New Photos of the Three New Colors for the 2022 Corvette
Chevrolet Offers New Options, Enhancements, and a Higher Price for the 2022 Corvette Stingray
[VIDEO] 2022 Corvette C8.R Special Editions Shown at Belle Isle Launch Event