As a fan of special edition Corvettes, I've been patiently waiting for Chevrolet to get around to offering one on their hugely successful mid-engine Corvette. Unlike the C7s which offered a limited launch edition right out of the gate, we've been forced to wait until the third model year to get an official special edition on the C8.
Well folks, the wait appears to be over as Chevrolet will be offering a C8.R special edition in two colors, Accelerate Yellow with Silver Stripes and Hypersonic Gray with Yellow Stripes. These photos come from our friends at the Corvette Action Center who were able to snag these screengrabs of the two models.

The special editions are officially named the IMSA GTLM Championship C8.R editions and they also feature the Carbon Flash High Wing spoiler, visible carbon fiber side mirrors, Yellow Brake Calipers, Strike Yellow/Sky Cool Gray 3LT interiors with Yellow Seatbelts, and a C8.R graphic that is applied to the rear quarter panels just behind the side intake boomerang.
The C8.R Edition (for short) was first spotted on the new 2022 Corvette Visualizer that went live late last night. Only 1,000 of these are expected and we heard they will be available in LHD Configurations only.

No official pricing is yet available for the 2022 Corvette IMSA GTLM Championship C8.Rs but we heard through the video below that the C8.R Edition package price will add $6,595 to the price of the car. That would make the rumored MSRP to be $87K for the Coupe and $94K for the convertible.
Update
Now that the visualizer is up and running, we clicked the info button for the C8.R Edition and it appears there is even more to it than at first glance. Here is what all is included: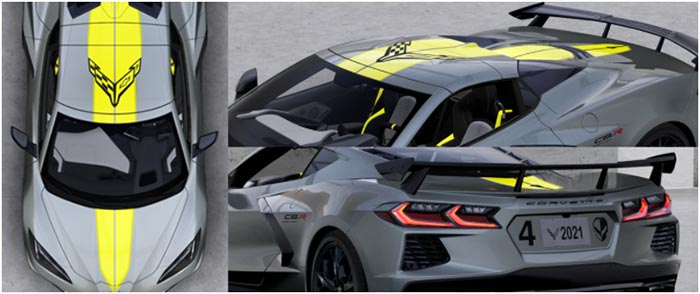 Celebrate Corvette Racing's 2020 IMSA GTLM Championship season with the C8R Special Edition. Limited to 1000, this package is readymade for track enthusiasts looking for the ultimate expression in performance.

Available in both C8.R Color Liveries
Car#3 Design is Accelerate Yellow with Gray Graphics†
Car#4 Design is Hypersonic Gray with Yellow Graphics
Both versions are available in coupe or convertible and also include:

EXTERIOR
High Wing Spoiler – Carbon Flash
Yellow Brake Calipers
Black Trident Wheels with Black Lug Nuts
Jake Logo Wheel Caps
Carbon Flash Mirrors
Black Side Rockers (Carbon Fiber Ground Effects available)
Splash Guards
Indoor Rendered Car Cover with C8.R image Yellow/Gray version

INTERIOR
Strike Yellow / Sky Cool Gray Interior
GT2 Seats (Comp Sport Seats available)
Yellow Seat Belts
C8R Special Edition Numbered Plaque

The C8.R Editions will be making their public debut at the IMSA Detroit race on Belle Isle this weekend. Here you can see the cars rolling across the bridge and staging on the Start/Finish line:

Source:
Chevrolet.com

Related:
[PICS] Stingray R Graphics Package Spotted on a C8 Corvette Convertible
[SPIED] The 2021 Corvette 'Stingray R' Graphics Shown at Road America
[PICS] Corvette Enthusiast Renders the 2021 Corvette Model Year Changes