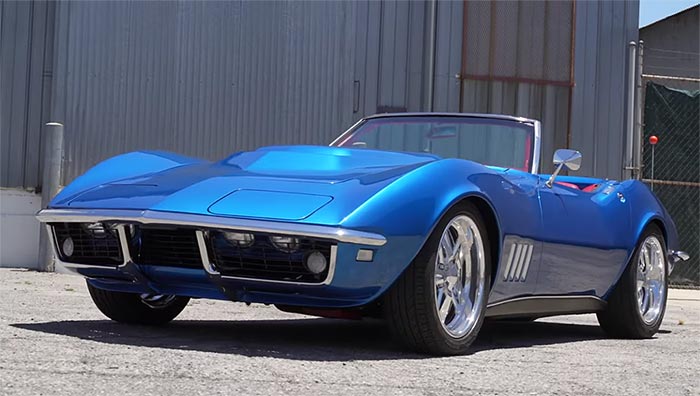 You don't always have to add the "latest and greatest" to enjoy yourself in a Corvette.
Just ask Jeff, the owner of this 53-year-old 1968 Stingray convertible that he totally restored – right in his own garage.
Of course, being able to accomplish such a feat is aided by the fact that Jeff has been around cars his whole life, plus working now as shop manager for a company that builds high-end sand rails and off-road race cars.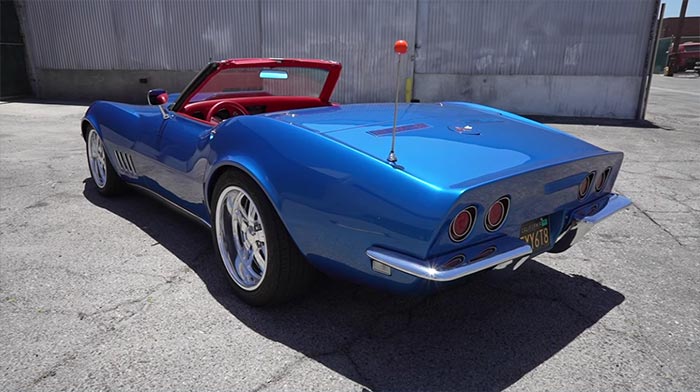 We spotted the car this week on Shawn Waters' YouTube channel called AutotopiaLA, and we absolutely fell in love with the rare color combo – blue over red.
Best of all, unlike some restorations that stay with the person who did all the work, Jeff says he's already ready to part with his luscious creation so he can turn his attention to what he really digs: a 1957 Nomad.
His Corvette – which left the St. Louis factory with a 427/435 horsepower L71 V8 engine – certainly lives up to its custom license plate that reads "SEXY6T8," but that certainly wasn't always the case.

In fact, Jeff shares the backstory of how this Stingray wound up in his garage, and he can blame it all on his parents. It seems that years ago his dad built a '57 Nomad – complete with blower – for his mom back in 1992 when Jeff was just 7, but she hated it. Since she always wanted a Corvette, his dad decided to trade his '31 Model A for this Corvette. Again she drove it for a little while, and again she decided she hated it.
So Dad decided to take it to a buddy's shop and have it restored, where they tore it apart and it sat for five years before Dad decided to bring it back home, where it languished for another six years.
That's when Jeff stepped in and convinced his dad to sell him the car, which was completely disassembled, no motor or transmission or interior, spot-primered with "half-assed bodywork."

Jeff then proceeded to take matters into his own hands, literally, and worked on the car in his off time, completing all the bodywork and paint in his very own garage.
"Everybody told me I was crazy" when he combined the red interior with the blue exterior, Jeff concedes, but now Autotopia's Shawn, for one, is a big fan of that decision, pointing out "you could not have picked a more perfect combination for this car."
We'd tend to agree!
That red interior features original door panels and seats, but he took 1½ inches of foam out of them and gave them a little more bolster. He did install custom Auto Meter gauges that are blue with diamonds instead of the stock black on silver and upgraded the sound system.

Jeff then proceeded to take matters into his own hands, literally, and worked on the car in his off time, completing all the bodywork and paint in his very own garage. Jeff managed to find a date-coded 427 to replace the original 427, and it now pumps out a dyno'd 520 horsepower and 560 ft-lb of torque.
Since he savors the experience of driving an old car, Jeff didn't update the systems to the most recent aftermarket stuff, sticking with the original M22 4-speed manual transmission and just rebuilding the original manual brakes and suspension, though he did lower the front 2 inches because he felt the car was sitting too high on the 18-inchers he had installed all the way around.

"Being a true L71 car, they're pretty rare so I didn't want to cut the car or do anything drastic to it," he explains.
After taking a fun-filled ride in the car, Shawn agrees the Corvette is "such a perfect blend of old and new" that provides "instant smiles."
"It's a controllable, streetable power," Jeff admits after doing a burnout in the car for the first time.

Source:
AutotopiaLA

Related:
[VIDEO] Detroit Speed's 550-Horsepower Purpose-Built 1972 Corvette Restomod
[VIDEO] 1958 Corvette Restomod with a 572 Big Block Rules the Boulevard
Corvettes for Sale: 1968 Corvette 427/435 Offered at No Reserve