Photo Credit: Detroit Speed

Detroit Speed's brutal 1972 Corvette restomod has been around for years now, but Shawn Davis from AutopiaLA revisits this exotic shark and does a video walkaround for us. Like a fine wine or classic rock, this lightweight, LS-powered C3 gets better with every passing year.
For those of you who are unfamiliar with Shawn Davis' AutopiaLA car and motorcycle storage shop out in sunny So Cal, hang on tight and we're gonna bring you to speed, literally.
Think of AutopiaLA as a steroid infused facility that not only pampers your beloved whip but acts as a concierge for all the tasks and maintenance that are part and parcel with cool automotive toys. They offer white-glove detail services, DMV access, and vehicle transportation. They will even emcee a build from rendering to completion.
Looks like Shawn and world-famous Detroit Speed will showcase four cars on YouTube, with the current spotlight on DS's own red, white, and blue 1972 C3 Corvette restomod.
This very snarky C3 has been on the scene (and the autocross circuit) for years now but like the Mona Lisa, it's beauty has never been diminished or overplayed.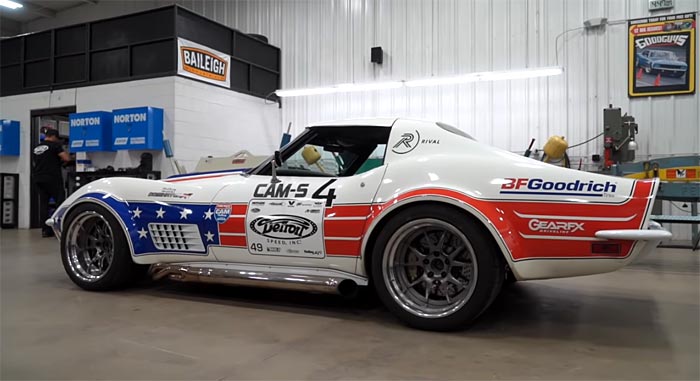 A featherweight, 550hp LS-powered speed demon, this 1972 coupe is a great blueprint for anyone building a restomod C3. In the video, Shawn does a walk around with DS rep Alex and they revisit this crazy cool, purpose-built race 'Vette.

Some highlights are the graphics are vinyl not paint, the flares are borrowed from the L88 playbook and this 'Vette is a petri dish for all of Detroit Speed's high tech go-fast suspension hardware. Be sure and check out Detroit Speed's DECAlink rear suspension for 1962-1882 Corvettes.
The C3 is such a beautiful car that really comes alive at speed and that's the best part of this video. Seeing the classic shark move fast and change direction with lightning-fast reflexes is poetry in motion. It helps that Detroit Speed marries the aforementioned L88 flares with big rubber and the perfect stance. So yeah, we've seen this car before, but turn up the video and watch this glorious coke bottle beauty strut it's stuff because that never gets old.

Source:
Motorious.com

Related:
[VIDEO] 1970 Corvette Convertible Restmod Aptly Nicknamed "The Crusher"
Corvettes on Craigslist: 1976 Corvette Restomod
Custom 1972 'Speedvette' Heading to Barrett-Jackson Las Vegas