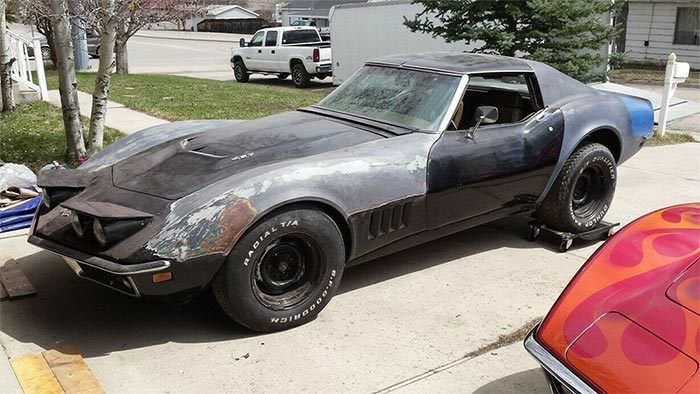 It may look like Dolly Parton's "Coat of Many Colors" right now, but this 1969 Corvette Stingray coupe offers up a lot of potential for a new owner.
Interest in this Corvette – which hasn't been on the road since the 1980s – has been high on eBay, with 32 bids climbing to $10,000 with a week left in the auction.
Little wonder since the original numbers-matching L36 427/390 hp engine is still residing under the hood! That was actually one of five 427 options offered by Chevy that year and cost $221.20 back in the day, the most popular choice made by 10,531 customers. Other 427 options were the L68 427/400 hp, 2,072 made, $326.55; L71 427/435 hp, 2,722 made, $437.10; L88 427/430 hp, 116 made, $1,032.15; and L89, which offered aluminum cylinder heads with L71, 390 made, $832.05.
"It is a rare find today to see a '69 Corvette still retaining its true original drivetrain and build sheet (tank sticker/Corvette order form)," the current owner notes.

The seller, who's in Kenmmerer, Wyoming, says he has owned this Corvette for 10 years and had planned to restore it, but other projects just keep getting in the way so it's time to move on, he believes.
While it's been off the road for a long time, he believes "if you put fuel to it, it will still run," but cautions this Stingray will require a complete frame-off restoration. "Bring a truck and trailer," he warns. "You will not be driving it home!"

The car left the St. Louis factory wearing a coat of the one-year-only Riverside Gold paint, but that is subject to a new owner's whims now since a complete repaint is in the offing. The seller claims the frame is straight, with no holes, and surface rust only, so that's definitely a positive.
The interior is original, but it's in dire need of some TLC, including new seat covers, new carpet, and either a dye job or a replacement of the back portion of the console around the emergency brake.

One of the photos with the listing shows the car next to a restored '69, offering a neat example of how much potential awaits. Would you be willing to tap into that potential?

Source:
eBay Motors via BarnFinds.com

Related:
Check Out These Great Rides For Sale From Corvette Mike
Corvettes for Sale: 1965 Corvette Barn Find
Corvettes on Craigslist: 1960 Corvette Once Owned by Classic Car Enthusiast Leo Gephart