This multi-colored, heavily optioned 1965 Corvette Sting Ray has been stored for 35 years in a garage in New Jersey.
Now it's in Florida and looking for a new owner to give it some TLC.
Even in its deteriorated state, this Corvette's beautiful lines turned our head, but at the asking price of $41,000 on eBay, we're afraid it might be best to turn our head in the opposite direction and avoid breaking the bank. Still, some 130 people are watching the auction, so there is obviously a lot of interest in this car.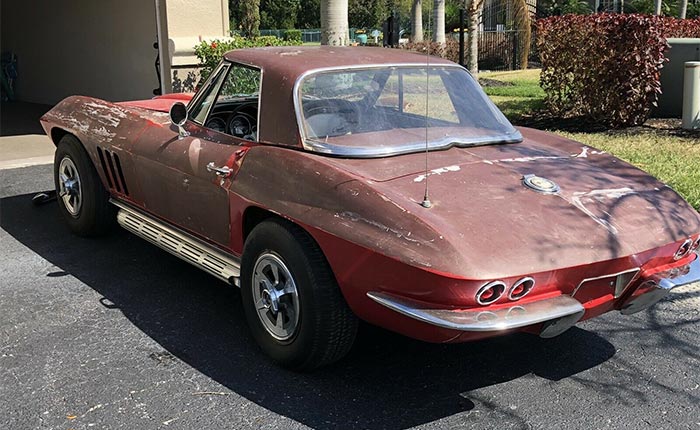 We noticed it on Barn Finds, and one of their readers offered the following thoughtful insight into this classic Sting Ray convertible:
"That list of options seems to be a bit inflated, first it isn't an L79 engine, next it does not have a teakwood steering wheel and on the positive side, that is an AM/FM radio, not an AM, the interior is trash needing just about everything replaced & don't forget the birdcage & chassis rust, which it will most certainly have in the most hard to reach areas. even the air cleaner is wrong for this car, not to mention the incorrect 350 HP decal, the most valuable thing on this car is the master cylinder, even in its rusted state will bring $500 to $1000, but the biggest thing that strikes me is the hodge podge of parts from other years of Corvettes, padded sunvisors, speedo & tach from a 63, radio knobs from a 63 or 64, door pulls from a 66 or 67, I could go on & on, but I'm sure you get the idea, 10 to 15K at best & that is only after the car has been checked for possible title fraud."
According to the seller, he's had this car – one of 15,378 convertibles made in '65 – for about a year after the previous owner told him it sat in a garage for 35 years.

On the bright side, he reports that the car "starts" and "runs," the four-speed manual transmission "shifts fine," and the frame is in "great shape, so is the cage." It's also got power steering, power brakes, and an auxiliary hardtop.
We're led to believe the 327 engine under the hood is the original numbers-matching powerplant, but we don't know that for sure. A potential buyer would definitely want to confirm that.
Nevertheless, the seller rates the car as being overall "in great shape," and "with a little work" would be "very drivable."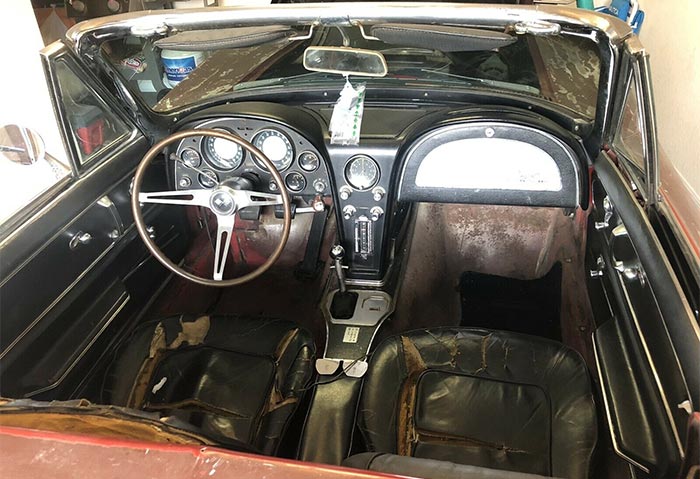 This Sting Ray "has lots of potential," he says, with a new owner potentially restoring it or hot rodding it. Someone might even want to get the car mechanically sound and then leave the existing "patina" on the body. Regardless, it's likely the new owner would want to install new leather and foam on the seats, along with fresh carpet. Might some scrubbing on the dash and interior trim bring those parts back to life?
Paying $41,000 up front for this car makes it a questionable candidate for a quick flip, but sinking another $30,000 in restoration would make a huge difference in its appearance. Since these cars can command more than $100,000 in restored condition, maybe it wouldn't be such a gamble after all. Would you be willing to take that chance?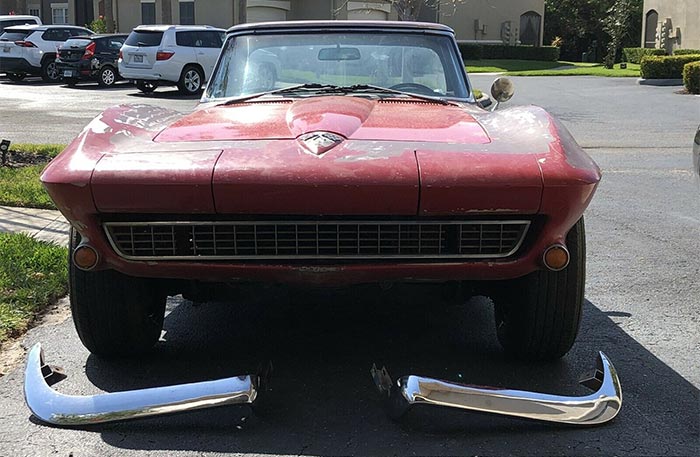 Source:
eBay.com

Related:
Corvettes for Sale: The Last Corvette Daytona Prototype Racecar
Corvettes for Sale: Lingenfelter Powered 1991 Callaway Aerobody Convertible
Corvettes on Craigslist: 1960 Corvette Once Owned by Classic Car Enthusiast Leo Gephart