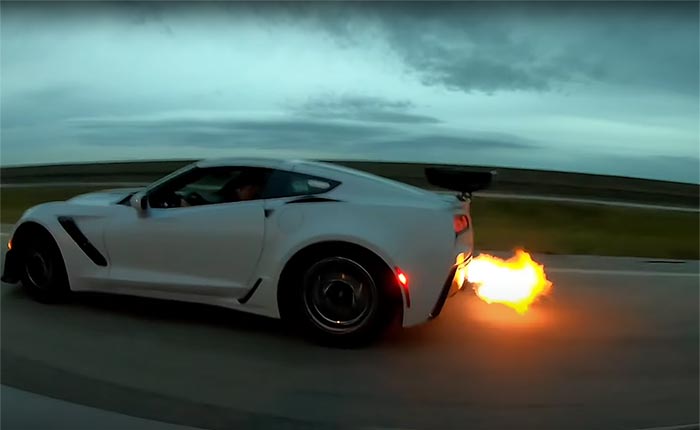 We don't know many details about the changes to the two behemoths taking part in this drag race.
But we do know the 2019 Arctic White Corvette ZR1 already packed 755 horsepower and 715 lb-ft of torque when it left the Bowling Green factory with a supercharged 6.2-liter engine, and the FBO-modded Chevy seen in this video probably is cranking out 800 or more whp.
Its competitor, a dark red Dodge Challenger Hellcat, started out with 707 horsepower and 650 lb-ft of torque from a 6.2-liter supercharged motor but then added a 4.5-liter Whipple supercharger that likely upped its output to at least 1,000 horsepower at the wheels and a matching amount of torque.

We're not too crazy about seeing these two cars (with a bunch of onlookers parked alongside) racing on public highways – come on, fellas, take it to a dragstrip – but we are happy to report that the ZR1 more than held up its end of the challenge and left the Dodge in its rearview mirror, trying to catch up to that massive rear spoiler included with the ZTK Track Performance Package for 60 percent more downforce.
The two cars aim to please their owners in totally different ways, with the much heavier Hellcat (4,469 lbs. to 3,560 lbs. for the ZR1) designed for the drag strip. The ZR1, meanwhile, is more of a driver-friendly car that can better put its power to the ground, good for takeoff and trips around the track.
Perhaps the most interesting thing about this video comes at the beginning of the race when the ZR1 spits out some flames from the exhausts. Way cool!

Source:
autoevolution.com

Related:
This or That: 2020 Corvette Stingray vs 2019 Corvette ZR1
[VIDEO] Watch a 2019 Corvette ZR1 Run the Quarter Mile in 9.592 Seconds
[VIDEO] Hennessey Track Tests the 2019 Corvette ZR1 vs 2020 Mustang Shelby GT500