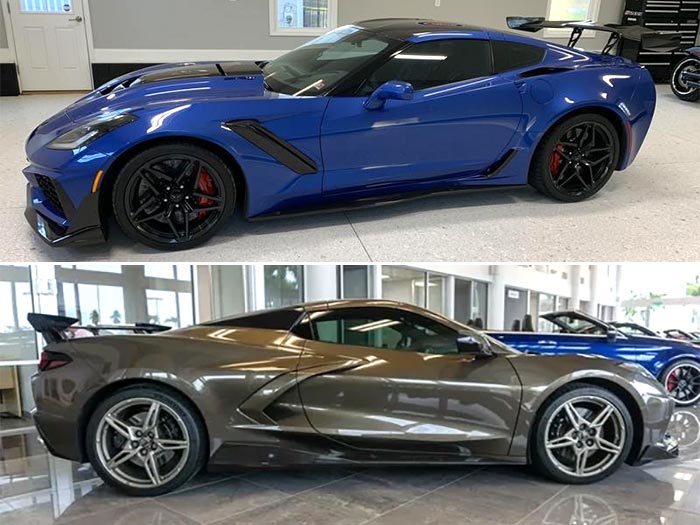 With one model-year officially in the books, it is safe to say that General Motors' colossal gamble on their halo car's new engine placement has been a raging success. Order banks are still back-logged, and awards have been collected at an unprecedented rate. But all of the interest and acclaim created by the eighth-generation Corvette comes with an ominous cloud that now looms over the entire model-line; Additional Dealer Markups (ADMs).
Of the 608 first and early-second-year C8s currently listed on Cars.com, a whopping 212 (35%) are saddled with asking prices north of $100,000. An additional 73 units don't even have their prices listed, which is a tactic frequently utilized by dealers who want to break the ADM news to prospective customers that have already called and shown an interest in a car. This means that as many as 47% of the C8s on the Cars.com marketplace could be asking six-figures. For a car that has built its reputation on attainability, this creates a whole lot of problems, and the biggest of those brings us directly into the third edition of our new column, This or That.
The premise of "ToT" is simple; we Corvette Bloggers poise a choice of two Corvettes to our passionate readers, and you all get to go through the exciting process of deciding which one you would rather park in your garage. If you happen to be going through your very own Corvette Conundrum right now, drop us a line at [email protected], and we will happily help. Who knows, one of our polls could decide your next car purchase right here on your favorite site!
Now, to this week's match-up! We believe that the excessive "market-adjustments" that we are seeing on many C8 Corvettes are out of hand. But, we aren't here to argue about the morality or simple economics of this issue; our question, with the rise of ADMs, becomes; is it worth it?
The C8 has been heralded as the greatest Corvette of all time by more experts than we can list here, but a lot of that praise is being heaved upon a $60,000 to $85,000 car. When a dealership takes the performance bargain of the century and increases its price, in some cases by double, it inevitably encroaches on the territory of the meanest Corvette ever produced, the 2019 ZR1. And the King doesn't take kindly to trespassers; this could get ugly! Let's meet this week's combatants.
Option 1:
The MSRP+ problem is so widespread that we had plenty of high-dollar first-year C8s to choose from (even exotic dealerships are getting in on the Corvette flipping action!), but one in particular really caught our collective eye. It is a 450 mile 3LT Z51 Convertible currently on offer at Mercedes-Benz of Naples. Highlights of this impressive Zeus Bronze build include the limited high-wing option, even rarer $2,695 5DG Performance Pewter open-five-spoke wheels (both dealer-installed accessories that should net the owner an extra set of rims and the "regular" Z51 spoiler), and carbon fiber ground effects. This drop-top Stingray also features the body-colored exterior accents package and roof to keep with the gold-out theme, while the nacelles add a complementary splash of Carbon Flash that ties-in nicely with the black brake calipers. Inside we spy Natural Napa GT2 seats, carbon fiber trim, illuminated sill plates, and front-end-lift.

Option 2:
We were fishing in a much smaller pond for this article's C7 ZR1 representation. Just 15 examples are currently listed on Autotrader. Not to be outdone, the one that we chose to throw into the octagon with Zeus brings a markup of its own to the fight. Hailing from a private seller in the Windy City (an educated guess), with 4,000 miles on the clock, it is one of just 112 LT5 C7s painted Elkhart Lake Blue. Features include the ZTK "high-wing" package, red calipers peeking out from behind dark wheels, a seven-speed manual transmission, and the GM Performance intake that bumps total output to a factory-approved 772 horsepower.

Decision Points:
Eye of the Beholder: We will lead this opinion-based section with the usual suspects; color and design. The other major area where these "Irish twins" diverge is in how they change gears. The slightly newer car is equipped with the Crossed Flags' first quick-shifting dual-clutch automatic transmission, while the elder statesman holds the distinction of "final stick-shift Corvette" (crosses fingers), for now. It is up to you in those categories, but where a winner is crowned by more than a judgment call is as follows:
Interior: The C8 easily takes this one on materials alone though some might not be too keen on some of its design cues, and the weird lever sticking out of the console with an H-pattern stamped on its head might win the C7 back a few points with certain voters.
Rarity: If you do a full color and options breakdown (3% (548) Bronze, 1% Pewter Wheels, 18% high wings, etc.), the mid-engine 'Vette might come close to the rarity of our chosen C7 ZR1, but when you look at the big picture, the 2020 Convertible run of 3,581, is just edged out by the ZR1's one-year production total of 2,953.
Speed: Surprisingly, the car with a 277-horsepower advantage doesn't earn a clean sweep in this section, but it's close. In 0-60 testing, the Stingray's rear weight-bias, lightning-quick shifts, and cleaver gearing earn it the nod as the quickest Corvette of all time. After the initial sprint, though, it is all ZR1. The new car's lead at 60 turns into a second and a half deficit by 100, and it runs out of steam a full 28 MPH sooner at the top end. The ZR1 goes on to dispatch 1,320 feet in 10.8 seconds at 135 mph, putting .5 of a second and 13 mph between itself and the C8.
When you add turns to a track, the ZR1 really tells the whippersnapper what's what. At Laguna Seca, in the hands of Motor Trend's Randy Pobst, the ZR1 (which we still don't think got a fair shake at the 2018 BDC competition) stopped the clock in 1:32.46. About a month ago, a C8 ran 1:37.83 when Pobst got behind the wheel. According to Chevrolet's own testing on Germany's infamous Nürburgring, the C7 ZR1 is 26 full seconds quicker than its immediate predecessor.
Price: There are a handful of C8s on the market that can cast a shadow on our ZR1's $149,999 asking price but at, $139,900, the example that we choose can actually save its buyer a significant $10,099.
If you look at which of the two is a better deal, though, you're thinking may change. The Cubs and Bears fan trying to move on from his ZR1 is asking $9,029, or about 6% over the original MSRP. MB Naples' Z51 Convertible doesn't have any pictures of the window sticker, but, even if we err on the high-side, the next owner of Zeus will have to stomach a premium of over $40,000 (28.6%) if they want to take delivery!
The Bloggers Weigh In:
Alex: I think that the boss and I might be at odds here, but for me, this one is a no-brainer. The 2019 ZR1 is my favorite vehicle, and I suspect that it will remain that way for a long time. If I were fortunate enough to own the perfectly optioned example in this article, it's something that I would cherish and enjoy forever. The interesting spec of the Stingray might make me briefly hesitate, but the second that I open the ZR1 listing back up, it is game over; that's the one for me!
Keith: Our young padawan is mistaken if he thinks I'm buying a C8 Corvette for over MSRP. Trust your feelings, you know it's true! The 2019 Corvette ZR1 is a once in a generation car (and I'm talking people generations, not Corvette generations). A one year only model run with a unique motor and body style is pretty rare in today's world and extremely rare if we start trying to think of similar cars from General Motors/Chevrolet. The uniqueness of the car as well as all its attributes are keeping resale prices high. To this day we still get emails from people trying to find one for sale. This is a forever car to own and those that have one aren't yet keen on selling. However, that may change when we eventually see what the C8 Z06 or the rumored C8 ZORA/ZR1 model can do.
Your turn, Corvette Nation! Which of these beauties would you like to take to the ball?
Loading ...

Source:
mercedesbenznaples.com and AutoTrader.com

Related:
This or That: Which Supercharged Corvette for Sale Would You Choose?
This or That: Which Ultimate Performance Special Edition C6 Would You Choose?
GM Vice President Steve Hill Says C8 Buyers are Wealthier than C7 Customers