We temporarily interrupt your C8 coverage to bring you something from Corvette's very first year. The Corvette made its debut in mid-1953 with just 300 examples produced. All were identical with Polo White paint, a red interior, and a black convertible top. If you've been shopping for one of the 200 or so surviving 1953 Corvettes, then check out VIN #299 which will be offered later this month a Mecum's Glendale Arizona auction.
The penultimate 1953 Corvette is being offered at no reserve so the highest bidder takes it home. It was purchased in the 1980's by the seller's father. The plan back then was to display it as a work of art, but the car ended up in climate controlled storage instead. It was woken from its slumber in 2016 and treated to a mechanical inspection.

The Blue Flame Six engine was been rebuilt while the Powerglide transmission and brakes both were serviced. The interior received new carpets and seats and remains stock in appearance. The rest of the car remains in original condition, including the Polo White paint.
Looking at the photos in the auction listing we see a nicely preserved first-year Corvette. The original paint appears to be in nice condition and the engine compartment is nicely detailed. The red interior remains tidy and completes the classic Corvette white/red color combination.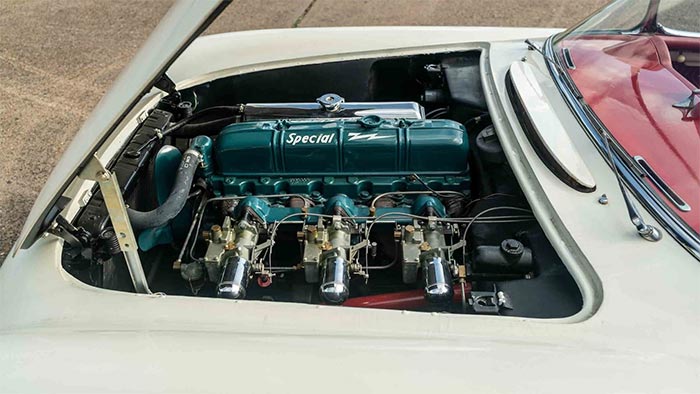 So, what's it worth? 1953 VIN #300 sold for $269,000 at Mecum Kissimmee in January 2020. That car has more awards and is arguably more desirable since it's the last one built. Back in 2019 #VIN 299 car bid to a $130,000 no sale at Mecum Monterrey. We suspect that the selling price in Glendale will be closer to that $130k than that $269k.
Mecum's Glendale, Arizona sale runs March 18th – 20th at the State Farm Stadium. Vehicle sales begin promptly each day at 10am local time. NBC Sports will have coverage of the event with a schedule that's yet to be determined.

Source:
Mecum Auctions

Related:
Corvettes for Sale: 1954 Corvette Offered on Facebook Marketplace
Corvettes for Sale: Take All Your Friends to the Show in This Custom Four-Door C3 Corvette
Corvettes for Sale: Customized Bright Green C8 Corvette with Forgiato Wheels