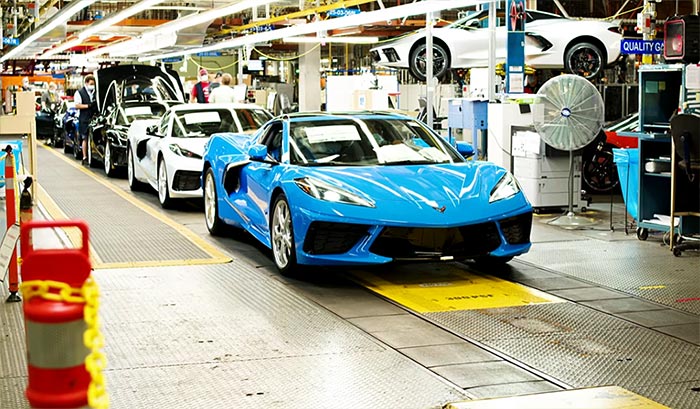 As we don't have official confirmation on this, I am placing the RUMOR tag on it because that's what it is right now. But as it comes from a trusted source, it's worth repeating if only to give us greater clarity on when the 2021 Corvette model year may end and when we might expect the 2022s to start rolling.
The word on the street is that the final production week of 2021 Corvette will occur the week of July 19th. That happens to also coincide with the final TPW for the exterior color Shark Gray Metallic.
However, as we have learned over the course of the last year, nothing is set in stone and the actual ending date may float somewhat depending on what happens between now and then.
Corvette Product Manager Harlan Charles was recently on the CORVETTE TODAY Podcast and was asked about the 2021 model year orders and if Chevy would be able to produce them all despite the recent shutdowns at the plant. He said they are definitely not doing for 2021 what they did in 2020 with the long extension to finish orders because they have been more conservative with accepting orders for 2021. In his answer, he says that the time period for the model year changeover "may be more of a late summer than an early summer."
We do know that Chevrolet wants to get the Corvette's production back to a regular production schedule which traditionally saw the model year changeover happen around the 4th of July time period. So the final TPW for 2021 as July 19th seems to be within the projected time frame. But remember this is unofficial at this time.
If the model changeover happens in mid-July or early August, we can expect information on the 2022 model year to start filtering out soon. The NCM Bash is still a little over a month and a half away and there is usually a leak or two of info prior to the official new model roll-out. Of course, we do know that three new colors are slated for next year's model and we have the possible reveal of the C8 Z06 that could happen sometime this summer as well.

Source:
MidEngineCorvetteForum.com

Related:
Here are the Internal GM Names for the New Exterior Colors on the 2022 Corvette
[PODCAST] Corvette Product Manager Harlan Charles Answers Your Questions on the Corvette Today Podcast
Dealer Rep Claims Reveal for the 2022 Corvette Z06 is Happening in July