Prince may have made "Little Red Corvettes" famous with his 1982 hit, but country artist Faith Hill could have done her share of crooning about Chevy's legendary sports car, too.
For her 29th birthday on Sept. 21, 1996, her boyfriend and very-soon-to-be-husband Tim McGraw presented her with a nicely restored red-on-red 1960 Corvette convertible backstage at the Oregon Jamboree, a still-active country music and camping festival that began in 1992 as an economic development project for Sweet Home, Oregon.
The classic Corvette must have made a good impression on Faith because the couple went on to tie the knot just two weeks later on Oct. 6.

Now, however, the car has recently been purchased from Faith and will be one of the 650 vehicles up for sale Saturday at the GAA Classic Cars Auction in Greensboro, N.C.
We'd love to know the backstory on the sale and why Faith, now 53 years old, would be willing to part with such a sentimental car. Based on the photos at the auction website, however, we wonder if this car has been driven much at all over the past 25 years as it is immaculate inside, outside, and underneath!

Before Tim bought the car, it had undergone an impressive restoration and still has just 38,000 miles on the odometer.
Equipped with a "CE" warranty replacement 327 engine, this 'Vette has a four-speed manual transmission, factory hardtop, white coves, a full complement of tachometer and gauges, and red interior.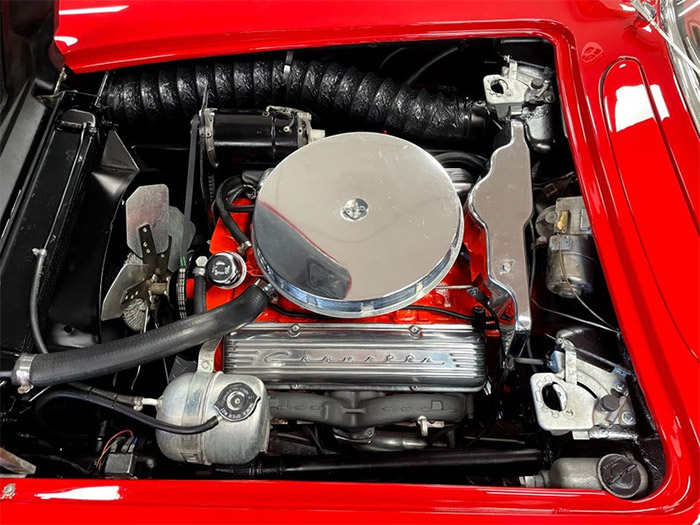 You may recognize the car from its appearance in 2012 as part of the National Corvette Museum's special exhibit called "Country Music Stars and Cars."
Other cars on display back then were Kix Brooks' 1958 Corvette, George Strait's 1958 Corvette, Steve Wariner's 1966 Corvette, Roy Orbison's 1967 Corvette, Dolly Parton's 1968 Camaro, Troy Gentry's 1970 Camaro SS, George Jones' 1978 Corvette, Marty Robbins' 1981 Corvette, and Brad Paisley's 1999 Corvette.

Source:
GAA Classic Cars via Motorius

Related:
[PICS] Sylvester Stallone Buys a Rapid Blue 2021 Corvette Convertible
2014 Corvette From Mark Wahlberg Movie 'Spencer Confidential' is For Sale on Craigslist
[PICS] The Last Dance: Michael Jordan and His Corvettes