The new mid-engine Corvette definitely doesn't mind taking on challengers of all shapes and sizes, even humongous ones.
Witness this Torch Red 2020 Corvette driven by YouTuber Stefan of Mod2Fame taking on a much more seriously equipped Bugatti Veyron.
Introduced in 2005, the Veyron definitely carries a bigger stick with its quad-turbo 8.0-liter W16 motor producing a whopping 987 horsepower, nearly double that of this stock Stingray's 495 horses. This version of the Veyron was capable of reaching 253 mph, and the Grand Sport Vitesse was said to be the fastest roadster in the world, hitting 254.04 mph in one 2013 test.
You can see all the action late in this video, which starts out with the C8 rolling down the interstate before blowing away a Viper caught off guard on their way to Alloy Wheel Repair Specialists in Atlanta. Those "friends in high places," as Stefan puts it, allowed a wide range of supercars to meet up in their parking lot, including Ferraris, Porsches, ZL1 Camaros, and more.
After some socializing between the drivers, the cars soon depart for some lighthearted hijinks on Atlanta interstates, but as a frequent traveler on these same roads, we'd much rather they'd take their competition to a safer spot like a drag strip. In fact, we have a good one just up the road in Calhoun at Paradise Dragstrip, which has been around for decades.
You can check out this "David and Goliath battle" between the "stupid, stupid fast" Bugatti and the Corvette at two intervals in the video, first at the 13:17 point and again at 14:06. We don't have to tell you the winner.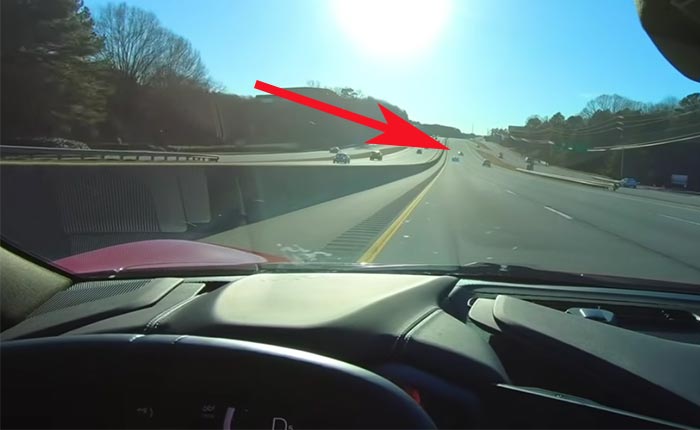 Maybe the highly anticipated beefed-up versions of the C8 Corvette like the Z06, E-Ray, and Zora will be able to whip a Bugatti someday. For now, we Corvette enthusiasts will just have to settle for having a much cheaper oil change.
According to CNBC's Make It program, an oil change for a Bugatti costs more than $20,000, no doubt because its dry-sump oiling system has 16 drain plugs, accessible only after spending hours intricately removing parts of the underbody.
Makes you appreciate that easily accessible oil pan plug in a C8 even more, huh?

Source:
autoevolution.com

Related:
The Amazing Corvette Collection You Could Have Instead of One Bugatti
[VIDEO] French Company Faurecia Makes the Interiors For Bugatti, Ferrari and Now the C8 Corvette
[VIDEO] Watch a 2020 Corvette Z51 Set a New C8 Lap Record at Laguna Seca