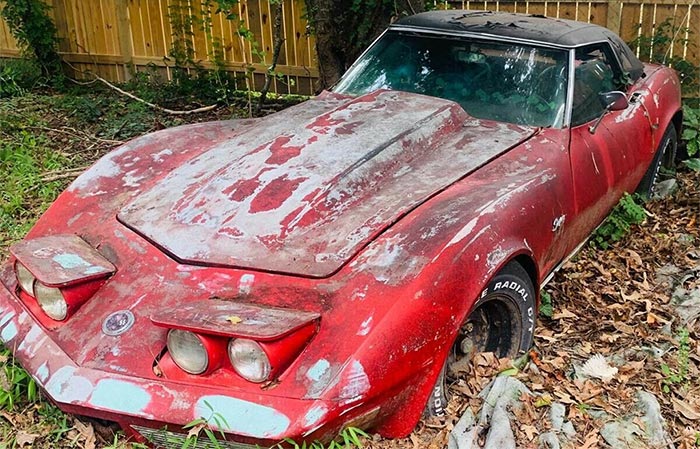 Quick, does anybody have a gun to put this Corvette out of its misery?
This C3 Corvette was first listed as a 1969 on a current eBay listing that expires Tuesday, then the seller added a note saying it was actually a 1970 with a new front end apparently off a '73 "because someone wanted it to look more modern."
Good luck with that!

One look at the photos, and you can certainly believe the seller's declaration that the previous owner bought this Corvette in the '80s and then let it sit in his backyard for a few years.
Despite its dilapidated condition, with body damage, terrible paint, flip-up headlights stuck open, and a non-original hood with a power bulge, not to mention a considerable amount of rust and foliage growing inside, the high bid has actually reached $5,000 as of Sunday morning.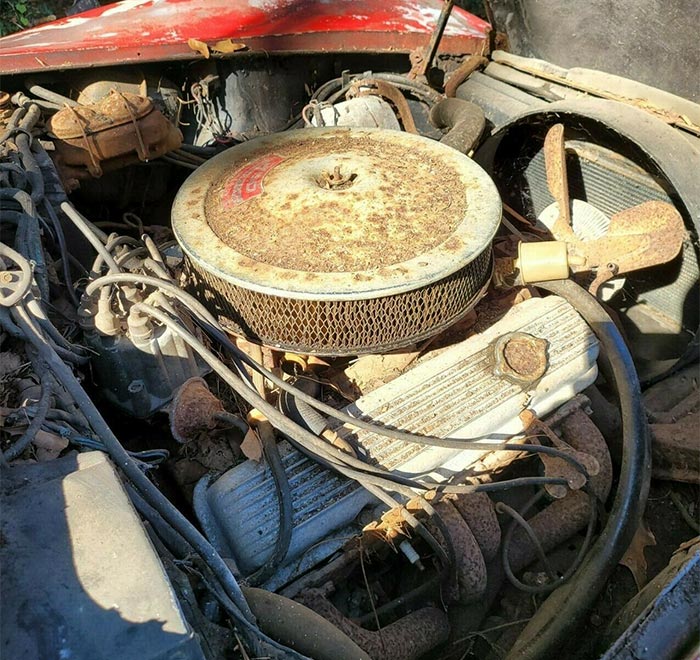 On the bright side, the car retains its original 350 motor and 4-speed manual transmission, and the original factory convertible top is said to be "in pretty decent shape."
We found this car on barnfinds.com, where several of their readers weren't very impressed.

One person says: "I would wager that the phrase is 'Former Birdcage.'"
Another commented: "I've seen a lot of rusted Corvette frames in the last 40+ years, but this one has to be one of the worse! The front crossmember is so rusted that the lower a-arms have fallen off, there's no frame left to support them. With that much rust easily seen, I'm scared to think how much is hidden from view. The way the top front of the passenger door is pulled out from the body, I'm assuming the right hinge pillar is gone, and if so, it's a safe bet the rest of the birdcage is gone."
Another guy who owns a Corvette parts business says he doesn't think it's worth fixing: "I would give a $1000 to part it out."
Finally, someone named Phlathead Phil summed it up with this comment: "How about we invent something like 'Negative Reserve' where the seller pays buyer?"

That's not to say we wouldn't love to see this Corvette undergo a massive rejuvenation and hit the streets again. It could be a beautiful machine. The question is with so many other '70s out there in much better starting condition, is this one worth the massive effort that would be required? What's your opinion?

Source:
eBay Motors via barnfinds.com

Related:
[VIDEO] Man Buys Abandoned 1980 Corvette and Has It Running A Few Hours Later
Corvettes on eBay: Barn Find 1963 Corvette Convertible
Corvettes on eBay: 1969 Corvette 427 Field Car