Imagine you were just getting married 50 years ago, and your wife thought a two-seat sports car like a Corvette wasn't very practical for a growing family.
Well, here's your answer to that criticism.
Just take her to the showroom and let her have a look at this custom 1969 Corvette Station Wagon.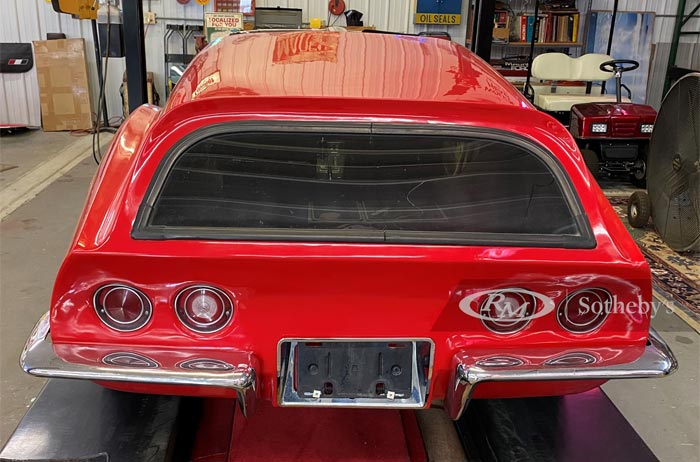 "This little red wagon would be perfect for our family," you could plead with her. "Why, just look at all that space behind the seats, plenty of room for groceries and…."
In case you weren't very successful with your begging back then, here's your second opportunity.
This beautiful red 1969 Corvette Station Wagon will be up for sale at the RM Sotheby's auction in Auburn, Ind., Sept. 3-5, where it's expected to fetch just $20,000 to $25,000.
Not a bad price, we think, for a definite conversation piece and a chrome bumper C3 to boot.
While there isn't much information about the car, as in none, provided on the RM Sotheby website, the four photos do seem to show a car in nice condition, if seeing is believing. The paint appears shiny enough, with no apparent body damage all the way around, and the interior looks like something you'd expect from that era with its comfy-looking crushed velour seats.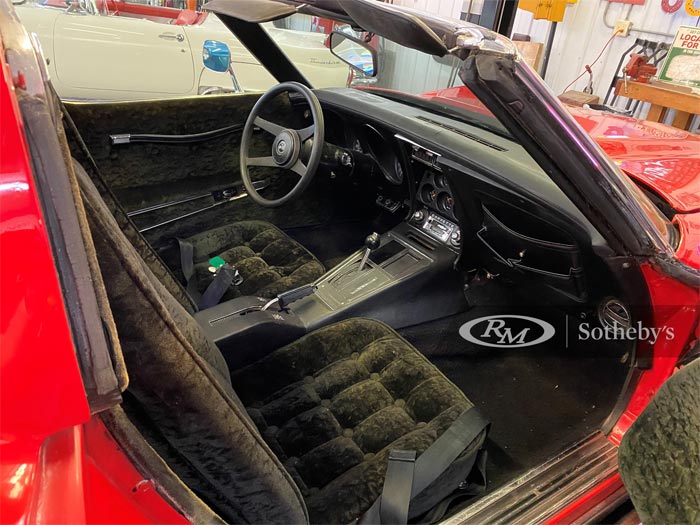 From our observations, we feel sure this car would benefit from the installation of some modern technology like the C8's rear camera mirror or a backup camera of any kind since there are no windows on the sides of the new wagon panels, just the glass looking out the back. Speaking of which, it appears to be sealed into place so apparently, the only access to the rear storage would be by folding down the seats and stuffing things back there.
Elsewhere, we do like the finned wheels inside era-appropriate BF Goodrich Radial T/A tires, and the side pipes are a nice touch, too. The car also features front fender vents from a 1970-72.
Through a little more internet sleuthing, we managed to find what appears to be the same car for sale for $23,995 in Kentucky back in 2016, with a little more information provided about it.
That dealer explains that the car has an Eckler's station wagon kit. "As you can imagine," the ad notes, "there w(ere) not a lot of kits sold — well, correction — there w(ere) not a lot of kits installed and finished. Basically, once people got the kits, they would a) not have the guts to cut up th(eir) Vette or b) cut it up and not be able to get the kit to fit right. Either way there are few of these left today and with kits no longer available they are sure to go up in value."

Meanwhile, "The front has had the headlights placed actually inside the grill and the front nose smoothed over giving the car a very slick look." We couldn't confirm that from the photos on the RM Sotheby's site because they don't show a full-frontal shot of the car.
Unless updates have been made since 2016, the ad back then says the 350 V8 is a replacement engine that had been in the car for around 10 years.
By the way, during our research, we also found an orange 1969 wagon in a 2019 article published on LSX magazine – and actually like better because it has glass panels on the sides, click here: 1969 Corvette Sport Wagon For Sale – LSX Magazine.
Tell us how you feel about these "more practical" 1969 Corvettes.

Source:
rmsothebys.com

Related:
Corvettes on Craigslist: 1968 Corvette Wagon in South Jersey
Found on Facebook: 1972 Corvette Sport Wagon
Custom LT5 Powered 1955 Nomad Wagon is the Coolest Car at Barrett-Jackson's Northeast Auction