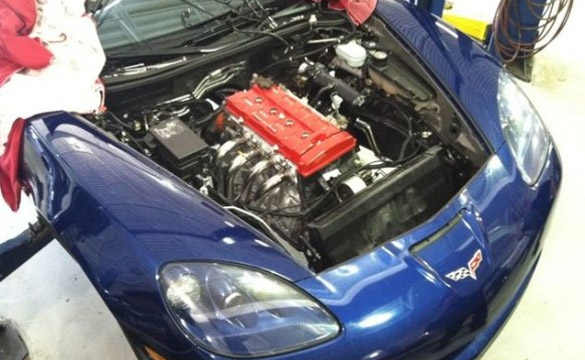 Well, this is reverse technology if we ever heard it.
Everyone knows that Corvette Chief Engineer Tadge Jeuchter says they stuck with a big, bad V8 motor in the Corvette because it delivered better fuel economy with the new Active Fuel Management system that shuts down half of the motor when appropriate than a smaller motor was able to do.
Now we find someone who has desecrated a Z06 and dropped a whiny B18 1.8-liter four-cylinder Honda motor (whatever the heck that is) into the engine compartment! Guess they didn't get the memo. Don't expect better fuel economy; that thing will probably be lucky to pull the car up a hill. And can you imagine not having that beautiful Z06 sound to listen to?
Of course, we've seen all kinds of little foreign cars with big, bad Corvette V8s transplanted into them, so maybe it was only a matter of time before the tables were turned.
But we just wonder who in his right mind would do such a thing to a great Corvette?
One poster on the original source of this tidbit (Honda-tech.com) summed it pretty nicely when he wrote: "Thats like the worst of both world's instead of the best."

Source:
hooniverse via GM Authority

Related:
[VIDEO] No Escaping the Corvette-Powered Volvette V70 Police Car
Unholy Engine Swap: Chevrolet Spark Powered by Corvette Z06′s 7.0 Liter V8 Engine
Chevy Silverado Gets A Corvette ZR1 Heart Transplant