"That's the weirdest sounding Corvette I've ever heard," one man is heard saying at the beginning of this recently posted YouTube video.
For good reason.
They call this last-of-the-rear-chrome-bumper Corvette the "Hater Maker" because some folks don't approve of putting a Japanese powerplant under the hood of a good ol' American Corvette.
Some might call it that, but just don't call it slow, though.
The owner of this 1973 Corvette says he just took a 572 crate engine out of the car three weeks ago and for weight reasons decided to stuff a Toyota Supra 2JZ motor with a 76mm turbo in its place.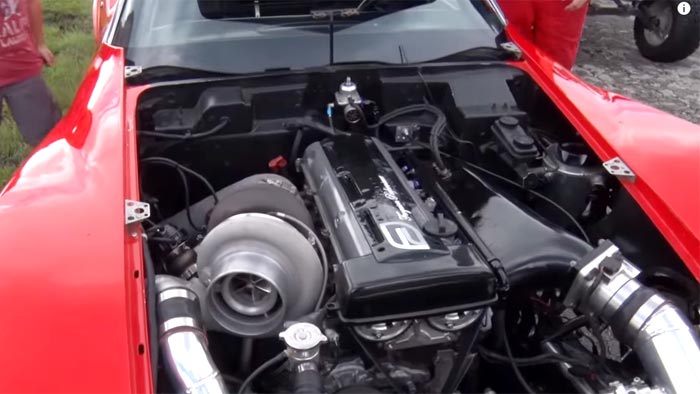 The result is the creation of some 1100 horsepower, the owner says, noting that he didn't have any really big problems with the unorthodox transition, other than having to notch the frame rails for the pump and alternator.
The video ends as we watch this "hybrid" Corvette turn in a time of 8.937 at the drag strip, reaching 153.21 mph.
Since this was just a shakedown at an FL2K15 event, we figure those figures will get even better in the coming months.

Source:
AutoEvolution.com

Related:
Unholy Engine Swap: Land Rover Defender 4×4 Gets More Power From a Corvette's LS3 V8 Engine
Unholy Engine Swap: Corvette Z06 Gets a 1.8L from Honda
[VIDEO] No Escaping the Corvette-Powered Volvette V70 Police Car