There's no doubt that the C8 Corvette Stingray is just begging to be customized by owners.
Ernie Sigala of Sigala Designs has been busy over the past few months and has just unveiled a rendering showing his widebody kit for the Stingray called the C8RR, coming this fall.
We love the look of the stock C8 but have always wished the designers had pushed the envelope further. Maybe it's the boy racer in us, but we love the look of this kit.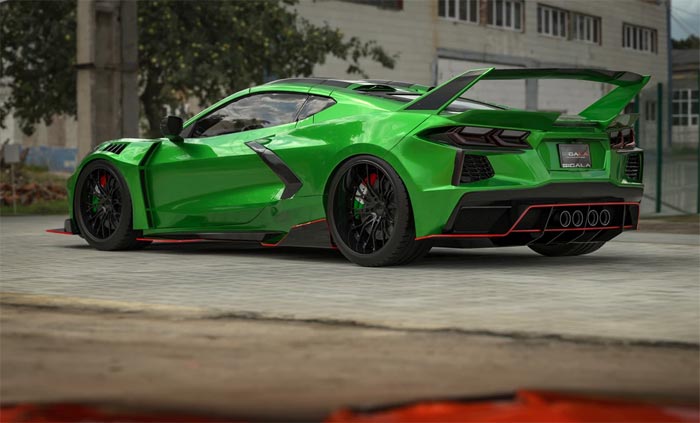 Included in the 32-piece package, the cost of which is said to be "coming soon," are:
Sigala Vented Hood
Front Bumper Extensions
Sigala Front Lip Extended
Twin Front Splitter Extensions
Sigala Wide Body Fenders
Side Skirt Extensions (2)
Side Splitter Extensions (4)
Wide Body Quarter Panels (4)
Rear Diffuser (1)
Rear Bumper Extensions (2)
Rear Winglets (2)
Hi Rise Wing (3 pcs)
RR Roof
RR Halo
RR Rear Hatch Extensions (2)
Engine Vents
The kits, which can be pre-ordered now at www.sigaladesigns.com, are available in Full FRP (Fiberglass), Full Carbon Fiber, and Partial Carbon Fiber/FRP (Fiberglass). You can also preview the C8RR kit with a variety of colors that include Torch Red, White, Black, Blue, Silver, Orange and Green.
No word on the cost of the custom wheels and aftermarket exhaust in the rendering, as well as the LED light strips and brake calipers painted in Italy's colors.

In case you don't want to go this wild or can't afford such extravagance right now, Sigala also offers some pretty nifty and reasonably priced upgrades by the piece for all C8s, including:
Carbon Fiber Door Molding – $799.99
Carbon Fiber Quarter Panel Molding – $799.99
Carbon Fiber Roof Panel – $1,299.99
Carbon Fiber Mirror Triangle Bezels – $349.99
Carbon Fiber Front Bumper Grille Insert Bezels – $999.99
Carbon Fiber Rocker Panel Extension Kit – $599.99
Carbon Fiber Mirror Kit (Caps) – $549.99
Carbon Fiber Engine Appearance Package – $799.99
Carbon Fiber Front Splitter – $799.99
Carbon Fiber Engine Cover – $549.99
Carbon Fiber Engine Cover Molding – $279.99
Carbon Fiber Front Bumper Emblem – $139.99
Carbon Fiber Rear Stingray Emblem – $139.99

The company also posted this video showing the design work behind the creation of the C8RR widebody kit to their YouTube channel:
Like all Corvettes, the C8 has a wild and distinctive style all of its own but that doesn't mean we couldn't turn up the heat more with our new design… We introduce to you the new Corvette C8RR Widebody Kit! Coming Fall 2020

Source:
Sigala Designs

Related:
[PICS] Rendered Widebody C8 Corvette Shows Potential of Mid-Engine Layout
[PICS] Sinister Widebody Rendering Pushes the C8 Corvette's Design Envelope
C8 Corvette Widebody Rendered with a Split Rear Wing and More