On Friday, our friends at Road & Track brought an interesting real estate opportunity to our attention. The property in question lies about an hour and a half from where this very story is being written, in Evergreen, Colorado. Any interested readers out there who are willing to part with just short of $20,000,000 could find themselves in possession of this 22,864 square foot, 7-bedroom, 12 bath (with four additional partial baths) "sanctuary" on a lovely 74.51-acre slice of the Rocky Mountains.
Some of the home's highlights include a movie theatre based on the bridge of the USS Enterprise, multiple wet bars and fountains, a wine room, a semi-indoor pool complete with waterfall, grotto, and slide, and, the inspiration behind what you are currently reading, a 27,000+ square foot "car facility" with its own 1 bed, 2 bath live-in caretaker space (if any of you end up buying this thing, your author would like to throw his hat in the ring when you hire for that position!).
What is most refreshing about this beyond-impressive garage space is the owner's interesting car collection. Unlike the majority of today's #Blessed influencer crowd whose only boring parking space prerequisites are "new" and "expensive", this guy shows an actual affinity for cars instead of one for showing off, we like that! Drawing us even further in, is the fact that the bulk of this vehicular assemblage is made up of unique Corvettes.
Now, instead of just flexing the collective knowledge of the CorvetteBloggers in this portion of the article, we thought it would be more fun to set our well-informed readers loose on the two hi-res images of the über-garage for a little game of Name Those 'Vettes!. So, prepare your pad and your pen and start scouring the pictures (we suggest opening them up in separate tabs) like a Where's Waldo book and, when you are ready, scroll further down to see what we came up with.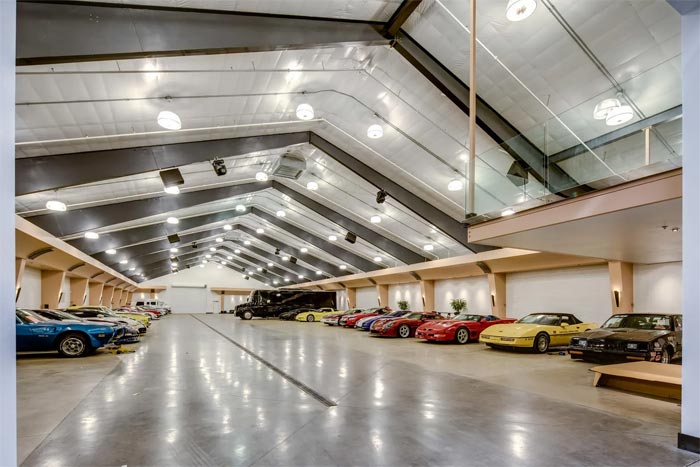 Welcome back, we hope you enjoyed your search! Here is the CB master list:
On the right side of the collection from closest to the camera all the way to the party bus that we wish we could see through, here are the Corvettes that we were able to ID:
1986 Indy 500 Pace Car (with the kind of money backing this collection, it could even be the real deal or the first Corvette convertible made since 1975.
One of the ten Callaway Speedsters
One of one Callaway Super Speedster LM
1996 Grand Sport featuring the last ever Greenwood body kit and a Doug Rippie 383 (this car was commissioned by the dealership that once employed your author, there were pictures of it all over the place)
1995 Indy 500 Pace Car (could it be the genuine article?)
Millennium Yellow C5 Lingenfelter?
Now, for the 'Vettes on the strong side of the massive space from front to back:
A semi-clone of 2003 C5.R chassis numbers 008 and 009, the Blue cars built for Le Mans which wore, for the first time, numbers 50 (for the 50th Anniversary of the Corvette) and 53 (to commemorate the year of the 'Vette's debut) and served as inspiration for the '04 Commemorative Edition Z06, on which this track car is likely based.
A Velocity Yellow C6 ZR1, just like Tadge's!
The Silver Race Car bookending the floorplan's biggest gap with is a tough one (especially due to its distance from the camera) that we almost passed over as a Panoz Esperante GTR-1 but upon further review and as much zoom as a screen would allow, we found the correct answer in the 1997 Callaway C7R GT1, which makes a lot more sense in this collection.
Two of the remaining three Corvettes are obscured by surrounding vehicles and the pixel limitations of the photos but we are putting our money on this one being one of the funky C5s that were rebodied to resemble early C1s, known as the '53 Commemorative Edition. In fact, we will go further out on a limb and wager that it is this exact example which is the unique Le Mans Blue of the car in the picture, features Colorado Custom Wheels, and was found at the same 2014 Mecum auction as many of the other cars here.
Another '95 Pace Car
Annnnd finally, the most imperceptible silhouette in the whole room. We know that it is a black Corvette but beyond that it is hard to even decipher its generation. We are leaning towards C4 but it could just as easily be a C5 so our final guess is Black 1984-2004 coupe. That is science!
Non-'Vettes in the room are what appears to be some sort of GNX drag car (Checks lots from Kissimmee '14) it's this one, a 35th Anniversary Camaro SS, a Lamborghini Aventador, the aforementioned party bus, a '70-'72 Trans Am, a Bugatti Veyron, a 1969 Camaro Z/28, a '64-1/2 Mustang, a '67 or '68 Camaro, and a righteous Chevy Van. All in all, not a bad way to spend millions of dollars on cars!
While putting this list together, the fact that we were able to find so many recent auction listings for the exact cars in this assemblage led our minds to two interesting theories. If the garage pictures are recent than the collection hasn't been together for very long, or, perhaps the sellers are using older photos in an attempt to demonstrate the sheer size of the space. If the latter is true, this may have been a case of a connoisseur procuring an exquisite collection that is later broken up by less-than-enthusiastic heirs. This seems to be the typical extended life cycle that the scarcest and most desirable cars go through over and over again once they achieve collector status.
We hope you enjoyed this edition of Name That 'Vette! Keep the conversation going in the comments section and let us know which of these ultra-rare Corvettes is your favorite.

Source:
LIV Sotheby's International Realty

Related:
[PICS] See What this Corvette Owner Found Hidden In His 100 Year Old Garage
Question of the Week: The Ultimate Two Corvette Garage
[VIDEO] Craig Jackson's Garage on Million Dollar Rooms