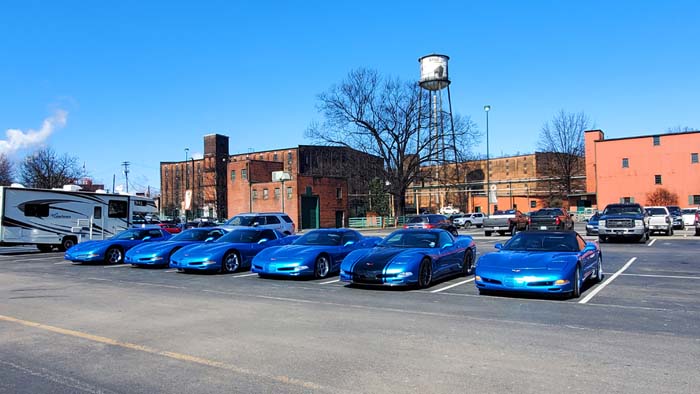 Anytime you can get a group of Corvettes together it is bound to be a fun weekend. This past weekend, March 6-8, 2020, was one of those weekends for the Facebook Corvette group "The Nassau Blue Brotherhood."
Nassau Blue Corvettes are seen by many as a rare and unique color for Corvettes. The mid-tone blue color was produced on Corvettes during the 1965 and 1966 model years for the 2nd generation Corvettes and then returned with the introduction of the 5th generation in 1997 and continued through the 2000 model year. During the 1965 & 1966 production years, Nassau Blue was the most popular color with a little over 6,000 for each year. However, for the C5 model years, it was one of the rarest of colors. It was the rarest produced color for 1999 and 2000. If fact, about 3,200 for the entire run from 1997 to 2000.
I started The Nassau Blue Brotherhood a couple of years ago with the thoughts of just seeing how many I could get together in one group and possibly get a group together someday. Today there about 115 members of the group and this past weekend was the first-ever get together.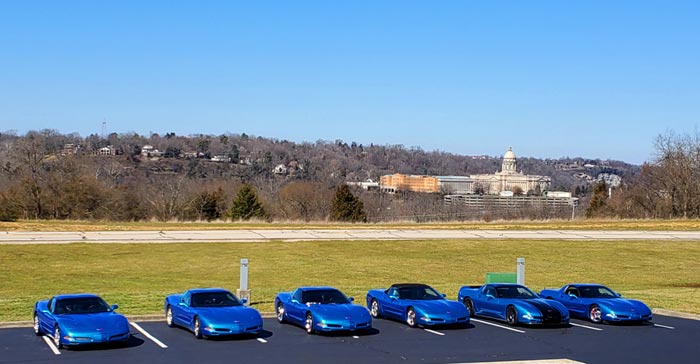 On Friday, March 6th, I arrived with my wife in Frankfort, KY and touched bases with the locations for the weekend and returned to the hotel. A very short time later the 2nd C5 Nassau Blue Fixed Roof Coupe (FRC) showed up. A buddy of mine and his wife that I have known a few years from Louisville, KY and one of the early members for the NBB group. After catching up for a little bit, the 3rd Nassau Blue C5 arrived, a coupe this time. She drove in from Ft. Wayne, IN and brought a guest with her. She was a fairly new member of the group that I had not met yet but the conversation quickly went to Corvettes and of course, new friends were made.
The six of us sat in the lounge of the hotel about an hour or so, caught up and got to know each other. Then it was off to dinner. We made our way, a short three-block walk to a nearby local pizza joint in downtown Frankfort. Sitting around a big table, sharing pizza, having a few drinks and sharing stories, it seems is a common event at many Corvette gatherings. After dinner, we made our way back to the hotel. Along the way, we walked by the Old State Capital building of Kentucky that dates back to 1827. We were not able to tour it at that time but we did take some night photos. Back at the hotel, we visited some more that turned in for the night.
The next morning started with breakfast at the hotel restaurant and when we went outside to head off to our first location, there was the 4th Nassau Blue Corvette, another FRC. Also a couple from Louisville, KY had joined us. While we were conducting the impromptu meet-n-greet, with a rumble in the distance, the 5th NB Corvette had arrived. This time another coupe. The meet-n-greet continued.
The day was filled with a number of locations to attend. We started at the nearby Buffalo Trace distillery. After the tour and the sampling of the products, we made our way back to the Vettes. When someone spoke up and said, "There's another one." Yep, we pick up the 6th Nassau Blue Corvette. Finally, a convertible had arrived. We now had one of each of the C5 body styles; coupe, convertible and Fixed Roof Coupe.

The day continued with a trip through town with photo ops at the State Capital building, Kentucky Vietnam Memorial and a stop at lunchtime for some bar-b-q. After sharing some time together for lunch, we cruised down some two-lane roads past a couple of old distilleries to our destination of Woodford Reserve for another bourbon tour. Then a few more back roads through the horse farms that Kentucky is well known for. The night was finished with more time together and a wonderful dinner.
Some had to leave that night while others left Sunday morning. Although it was a small group, a lot of fun was had, new friends were met and old friends reminisced. Everything a gathering of Corvette lovers should be.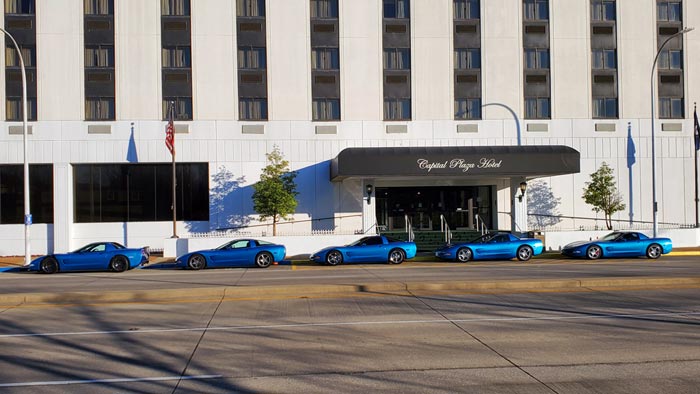 Some may say, "Wow, you got six cars together." This is true. But getting six Nassau Blue C5s together is very rare. I have been to Corvette events with a thousand or more and so far I have not seen six Nassau Blue Corvettes at the entire event. This weekend, one person said, "It is a gathering of unicorns."
Here's a photo gallery from the weekend:

Source:
Photos and story by Jeff Wagner
Related:
[POLL] What's the Best Corvette Blue?
C5 Corvette Generation Offers Unique Colors for the Corvette Collector on a Budget
The Best Corvettes of the 1990s: No.2 – The 1999 Corvette FRC