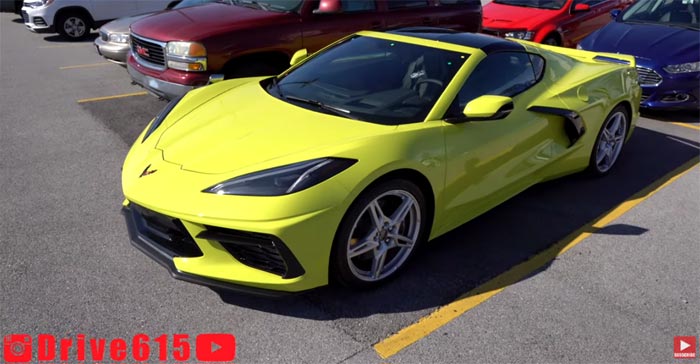 Our friend Byron Glover Jr. of the YouTube channel Drive 615 was up in Bowling Green, Kentucky on a beautiful Friday afternoon and was able to capture this walkaround video featuring the 2020 Corvette Stingray in Accelerate Yellow.
We noticed right off that the car is featuring the transparent top (RPO CC3) and according to Byron's walkaround, we see its outfitted with silver open-spoke wheels with Black brake calipers.
Byron notes that the car was parked in the "American Cars" lot first in front of the plant and then it was moved to the circle at the main entrance to the plant.
As this was the first time Byron has seen Accelerate Yellow, we asked for his opinion on the color. He tells us that seeing it driving down the highway made it look much more exotic and that the bright color adds to the car's supercar status.
From Drive 615 via YouTube:
Finally found the infamous Accelerate Yellow 2020 C8 Corvette. Spent my Friday up in Bowling Green and got some good footage. Full Video will be on the channel tomorrow morning.

While at the Corvette Assembly Plant, Byron was able to shoot multiple 2020 Corvettes as they are parked around the plant and he'll have that new video up on his YouTube channel on Sunday, so we will definitely be looking forward to seeing that one!

Source:
Drive 615 / YouTube

Related:
[VIDEO] 2020 Corvette Exhaust Compilation – Pure Sound!
[VIDEO] Man Tracks Down the 2020 Corvette in Nashville at the CMA Awards
[VIDEO] Walk Around of 10 C8 Corvettes Found at a Bowling Green Hotel