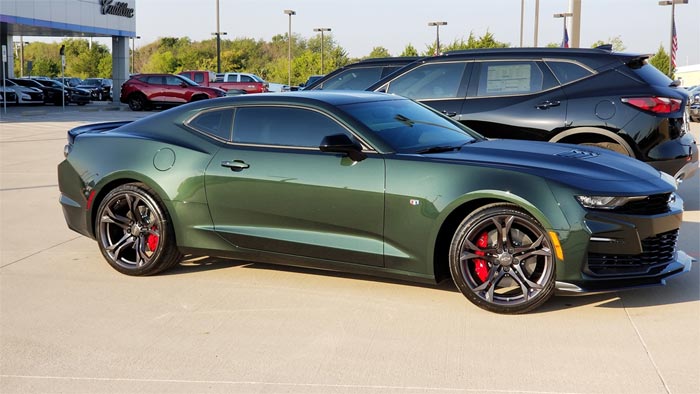 The eighth-generation Corvette offers one of the largest color palettes ever seen on America's Sports Car but there are still some underrepresented segments in the spectrum that we would love to see on the C8 at some point.
Welcome to CorvetteBlogger's new feature where we highlight new colors from across the General Motors' portfolio and occasional shades from other manufacturers that would look fantastic on our new mid-engine marvel!
The inaugural color that we would love to see migrated over to the 'Vette next year is a brand-new hue from the re-refreshed 2020 Camaro which they are calling Rally Green Metallic.

The C8 has already proven that it can pull off both exotic and classy looks. We think this British Racing-esque hue could rival Zeus Bronze for the title of most elegant Corvette paint on the market.
This is a very dark shade of green and isn't likely to be confused with 2014's stunning Lime Rock Green. It is nearly impossible to find good pictures of the new green this early in production. On the showroom floor, it looks black with a green tint, luckily LS2.com forum member, Gearhead SS, was able to capture some nice photos in the sun where the shade really wakes up and depending on your viewpoint; it presents a couple of different ways. The pictures of the awesome SS 1LE sitting on the truck waiting to be unloaded have an emerald quality to them but once the tires hit the pavement, some yellow shows up, causing it to give off more of an '80's Porsche Moss Green/original Bullitt Highland Green vibe.

Some muscle car enthusiasts out there might be saying to themselves something along the lines of "I had a Rally Green '69 Camaro and it looked nothing like that!" Unfortunately, just as it did with Admiral Blue in 2016, GM brought back a name from the past and applied it to a darker color. That said, both Rally Green paints are outstanding and we would love to see them offered side-by-side like the Corvette team has been known to do with a light and a dark shade blue at the same time (i.e. Jetstream and Supersonic Blue).
What do you think? Would you want this color on your C8? Should they bring back Lime Rock or the original Rally Green instead? Let us know in the comments and stay tuned to CorvetteBlogger as we continue to dive into the fascinating world of factory paint jobs!

Source:
Gearhead SS / LS2.com

Related:
[GALLERY] All Corvettes are Green on St. Patrick's Day (54 Corvette photos)
GM Announces New Premiere Edition with Lime Rock Green Corvette Stingray Convertible
First Lime Rock Green 2014 Corvette Stingray Makes Appearance at the Lone Star Classic