If you're looking for a late C3 Corvette that you won't see at every cruise-in, here's your opportunity to show up in one of the rarest paint colors around.
While red, white, and silver remain our top three choices when it comes to 1980-82 Corvettes, we're impressed with this unusual Silver Green example currently up for sale on eBay through Saturday – at no reserve!
Some 28 bids had been placed as of 8 a.m. ET on Thursday, Dec. 26, with the high bid so far-reaching a reasonable $8,000. It appears that someone is on the way to becoming the new owner of this rare Corvette at 1:13 a.m. Saturday, Dec. 28, without having to shell out too many bucks.

We haven't ever seen a Silver Green Corvette in person – and not too many even on the internet, and for good reason. Only 723 Corvettes were the recipient of this color in 1982, though five other colors were even more rare, with Dark Blue Metallic the rarest of them all with just 562 produced. This one also has the added bonus of a low VIN, being the 934th Corvette built-in 1982!
Having owned 1980 (red) and 1981 (silver) Corvette in the past, we'd rate this one to be in above-average condition, at least based on the photos.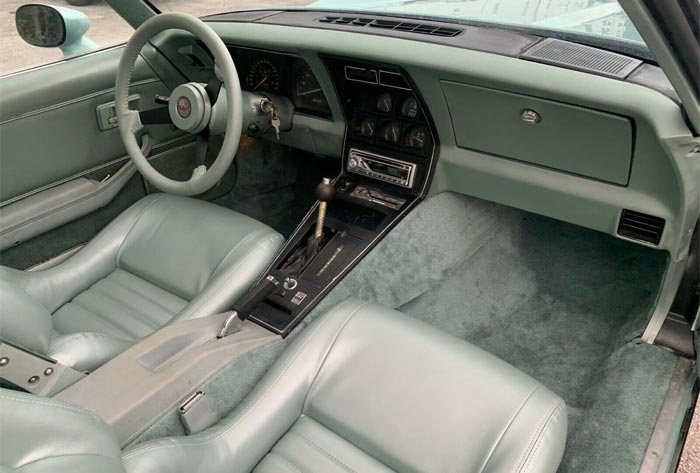 The paint and body seem to be more than acceptable, and the matching silver-green interior looks equally nice.
Mechanically, the seller says the car remains a matching numbers example after 37 years, with a "strong motor and (automatic) transmission," and it appears that it should be reliable mechanically as a new Crossfire Injection system, though much-maligned after its debut in 1982 and one-year use in the C4, has been installed. The car is also said to have new brake calipers, brake pads, brake lines, and master cylinder, along with new spark plugs.

This Corvette still has a "solid car, nice body, body lines, and body gaps," according to the seller.
One common problem seen with these Corvettes is vacuum leaks that cause the headlights not to work, so frequently you may see one "winking" at you or both headlights remaining open. The seller notes that these headlights do still work properly, as do the power windows and "most" gauges. One thing that does concern us slightly is that the seller notes that the AC works but needs a charge; we've seen systems like this with a slow leak that requires frequent charges or replacement, which can grow expensive if done by a mechanic and not yourself.
We hope the new owner enjoys this beautifully shaped C3 as much as we enjoyed ours. While the power isn't earth-shaking compared to later models, the torque was more than sufficient for this writer to make the 1980-82 models a lot more fun to drive than many cars from the same time period.

Source:
eBay via barnfinds.com

Related:
Corvettes on eBay: Funky 1971 LT-1 Corvette Stingray Barn Find
Corvettes on eBay: Nino's 1967 327/350 Corvette Sting Ray Convertible
Corvettes on eBay: Alan Shepard's 1968 L89 Convertible is Out of this World