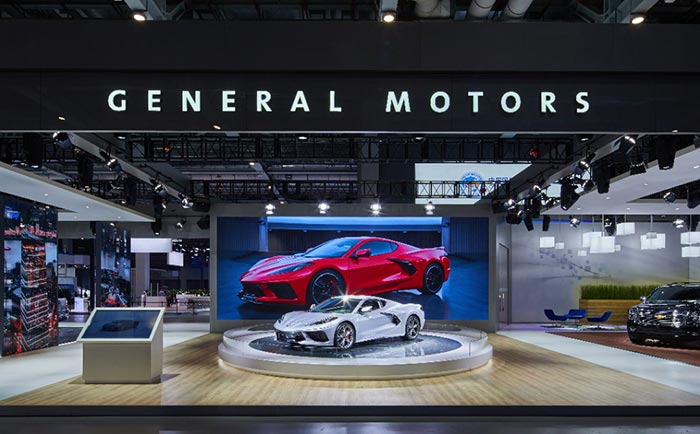 This week the 2020 Corvette Stingray makes one of its first international visits that we are aware of with a showing of the new car at China International Import Expo in Shanghai. The debut of the mid-engine sports car in China fuels speculation that GM is looking officially offer the Corvette for sale in the Chinese market for the first time.
China was one of the markets where General Motors has filed the "Zora" trademark which tells us the automaker appears serious in wanting to bring America's favorite sports car to the Chinese automotive market, now the largest in the world.
A search of CorvetteBlogger shows a nearly identical story we wrote back in 2008 about the C6 Corvette and the Chinese market, but nothing ever became of it. C7 Corvettes were available in China but only through importers and the gray market. Buyers have had to pay a premium for the opportunity to drive America's sports car with prices being the equivalent of $280K USD for a 1LT C7 Stingray.
In addition to the 2020 Corvette Stingray on display at CIIE 2019, Chevrolet is also showcasing the Suburban and Silverado, as well as the GMC Yukon XL Denali and the GMC Sierra Denali.
"We are proud to once again be participating in CIIE to introduce more lifestyle choices to China's consumers," said GM China President Matt Tsien. "The products on display show how we are creating a unique and rewarding experience for those pursuing their dreams while enriching China's car culture in the new era of quality growth."
"Our stand at CIIE is all about exploration, expanding boundaries and reaching beyond," said Marc Comeau, GM China vice president of Vehicle Sales, Service, and Marketing. "It showcases the spirit of innovation and overcoming challenges through the utility, versatility, and luxury of GM products."

Source:
General Motors via GM Authority

Related:
Is Chevy Preparing to Sell Corvettes in China?
GM Trademarks the Mid-Engine Corvette Name of ZORA Across the World…Including China!
Corvette Stingrays Listed for Sale at Over $280,000 USD in China's Gray Market