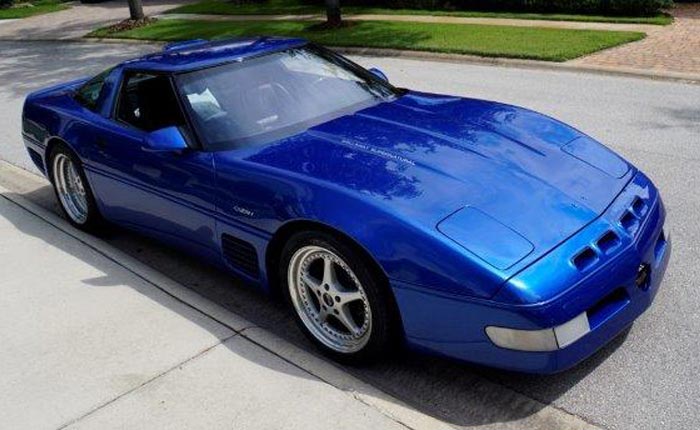 A few weeks ago, we posed a question to our community of Corvette enthusiasts about which two 'Vettes would be parked their ultimate side-by-side garage. We then weighed in ourselves and our fearless leader, Keith had the most unique answer when he selected the "Top Gun" project, one-off 1988 Callaway Sledgehammer and its McLaren F1 thrashing 898 HP and 254.76 MPH top speed.
With all due respect to the boss, he can keep that laggy beast! This ZR-1 based CR1 SuperNatural Aerobody is the better Callaway!

Callaway Cars have enhanced a total of 40 C4 ZR-1s. Of those, just fifteen of them got the full "CR1" SuperNatural package and this example is unique even within its minuscule peer group.
This 1990 King of the Hill originally left the dealership as a GMAC lease. The lessee was immediately underwater after signing for the hottest car in the world at $20,000 over MSRP only to put 2,500 miles on it before terminating his outrageous payment obligations. Dr. Steve Davidson then pulled off the coup of the young decade when he became the first true owner to the tune of $37,500 (nearly $30k under MSRP for a car that was still routinely selling for sticker+) at a local auto exchange. Davidson would spend the next five years championing the newly formed ZR-1 Registry Owner's Group, doing ZR-1 specific events, and even writing a monthly column for the Registry Newsletter called "Kleen Dreams." Then in 1996, on a convoy trip to help pick up a friend's new Viper GTS, an already slightly disenchanted Davidson got further disheartened by the crowds on the trip overlooking his, now out of production, super-vette for friend's WS-6 Trans Ams and Vipers.

Upon returning home, he decided to make his car truly special again with some upgrades. He wavered between sending his baby to Callaway or John Lingenfelter (the man who piloted the '88 Sledgehammer on its record-holding highspeed run). The draw of Callaway's tasteful, elegant Aerobody and their ability to extract massive power from the legendary LT5 without the use of turbos aided Steve's decision to ship his ZR-1 to Old Lyme, Connecticut to let Reeves Callaway and his team work their magic and as a nod to the inspiration for the upgrades, Dr. Davidson had them paint his new ultra-aerodynamic CR1 in Viper Blue Metallic.

If you are obsessive about the cars that you buy, this CR1 is for you as Steve is providing an outrageous amount of documentation including itemized receipts from both phases of the SuperNatural ($22,615.21) and Aerobody conversions ($21,750.50), Callaway Certificate of Authenticity signed by Reeves himself, a personalized dyno sheet from Callaway showing the car making 500 HP @ 7,000 RPM (a very strong build as the top package was supposed to produce 490 horses), a ton of pictures documenting the entire upgrade process, an appraisal of $90,000 from after the build was completed in April of 1997, an era-correct Callaway order brochure with all options featured on this car highlighted, and more!

This beautiful example of one of the finest Naturally Aspirated Corvettes ever assembled currently sits at 35,003 miles and has been continuously registered, insured, garaged, and covered when not on the road. Recent service items include new Pirelli PZero Rosso Assimetricos (285 front, 335 rear), new OZ Racing center caps, battery, shock tower bushings, recharged A/C Refrigerant at a total cost of $2,126.
In 2013 a full engine management overhaul was performed for another $2,203 and before that the Power Antenna, in-dash CD player, and $3,000 ZR-1 specific windshield were also replaced.

Dr. Davidson is currently listing this incredible Callaway Aerobody SuperNatural CR1 at $69,900.00 and you can contact him via email at [email protected] or by telephone at 386-447-9169.
If you are interested in owning one of the rarest and coolest Corvettes ever made, act fast! He has a 2020 Z51 Stingray on the way and he is on the fence about which of his current Corvettes to park it next to in his real-life ultimate two-'vette garage; this or his 2014 Cyber Gray Z51 Coupe.

Source:
Photos by Steve Davidson
Related:
Corvettes for Sale: 1993 Callaway 40th Anniversary SuperNatural Convertible #001
Corvettes on eBay: 2011 Callaway Carbon Edition Corvette Z06
Callaway Corvette Collection Offered for $995,000