Are people still excited to see new the Corvettes on tour at Chevy dealerships around the country? That would be a resounding yes based on the crowds we saw in Miami over the weekend.
Bomnin Corvette Center held their 2020 Corvette Stingray Reveal in South Florida over the weekend and the response was off the charts with nearly 3,500 enthusiasts showing up in person to see the new C8 Stingray Coupe and Convertible models.
On display was a Torch Red Stingray Coupe that was parked outside the C8 Dealer Tour's pop-up showroom while parked inside was the new 2020 Corvette Stingray Convertible in Blade Silver with the dipped Morello Red interior.
Bomnin's owner Arnaldo Bomnin was ecstatic over the visit of the C8 Dealers Tour which he tells us resulted in 105 deposits being made on the new Corvette, and some enthusiasts even put down deposits on the future C8 Corvette Z06!
We found a pretty good video on YouTube from a guy who visited the dealership on Saturday and you can see some of the crowd lined up in front of the pop-up showroom. He also shares video of the C7 Corvettes for sale inside of Bomnin's Corvette Center which is next to their Chevrolet Dadeland location in a former Toys-R-Us.

The C8 Dealer Tour stop was the first in South Florida and the roadshow will return with a visit to Bomnin's West Kendall dealership on October 30-31.
Thanks to Arnaldo Bomnin for sharing these photos from the reveal event: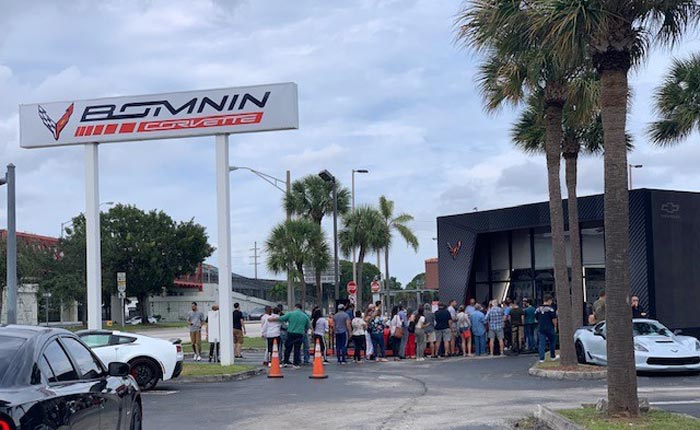 Source:
Bomnin Corvette Center

Related:
Come See the Miami 2020 Corvette Coupe and Convertible Reveal This Weekend at Bomnin Dadeland
These Guys Drove 11 Hours to See a Blade Silver 2020 Corvette At Lambeau Field
[VIDEO] Son Fulfills Dying Father's Final Wish to See the 2020 Corvette in Person