Well, my eBay addiction hasn't faltered in the last week. Yesterday I was pointed towards this highly desirable 2011 Carbon Edition Z06 which has been massaged by Callaway and now I can't look away.
The Carbon Edition Z06 was released in 2011 and limited to 500 units with only 252 actually produced. Owners could pick from Supersonic Blue or Inferno Orange colors. When production wrapped up just 85 of them ended up wearing that nifty shade of orange. All Carbon Editions came with Magnetic Selective Ride Control, Brembo carbon ceramic brakes, and enhanced cooling. Black 20-spoke 19-inch front/20-inch rear wheels were wrapped in Michelin PS2 tires. Outside, the cars got black headlamps and mirrors, A ZR1-style body color spoiler, body color door handles, carbon fiber raised hood, and black carbon fiber rockers and splitter. Inside you got a snazzy leather and suede interior complemented with orange or blue stitching.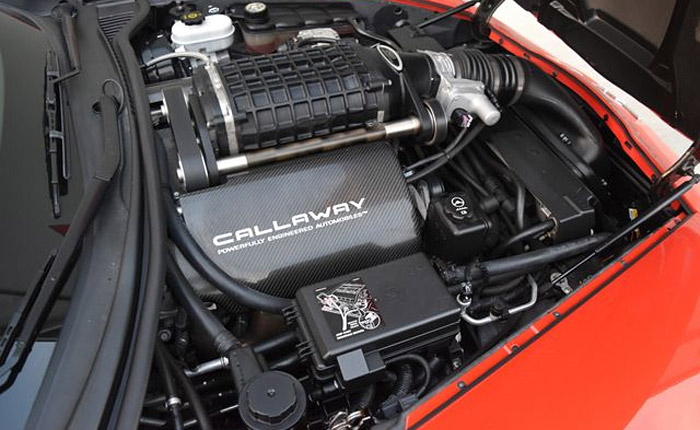 The car currently on eBay has all the aforementioned goodies but has also been treated to healthy dose of Callaway. This listing calls out the SC606 package, but if you look at the nose of the supercharger you'll see the SC652 emblem. "MORE POWER!!!" as Jeremy Clarkson would say. The seller also states its car 217 built though the VIN indicates its car 244. One last correction to the seller's ad is that they said its a 1 of 85 but the Corvette Black Book shows there was 86 Inferno Orange examples produced.

Looking at the photos the car looks to be in pretty nice shape for an 8-year old car. The interior looks clean with no real noticeable issues. The exterior including the Callaway hood bulge and double D exhaust both looks to have been well cared for over the years. Obviously, internet photos aren't the best way to evaluate the car, so if you're interested, check it in person or find someone to inspect for you. Mileage is a tick over 17,000.

The eBay listing has a Buy-it-Now of $89,950 and runs for a couple more weeks. That number is just under what this car would have sold for new. So, in some ways, it's like getting the Callaway package for free! This is also a great example of a Corvette which you're not very likely to ever see another one like it.

Source:
eBay Motors

Related:
Hendrick Picks Up a 2011 Black Carbon Z06 and Other Rare Corvettes at the NCM
2011 Corvette Z06 Carbon Edition to MSRP for $90,960
Introducing the 2011 Corvette Z06 Carbon Limited Edition