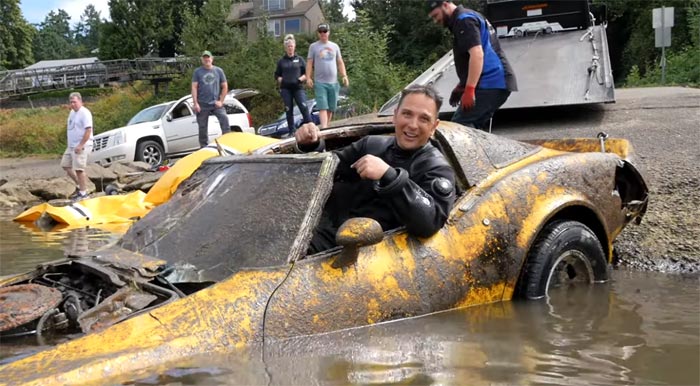 If you've ever wondered where old Corvettes go to die, here's one possibility.
We're not sure what they can do with this waterlogged (literally) C3 Corvette, but check out this interesting YouTube video anyway from the folks at Adventures with Purpose!
The yellow 1980 Corvette apparently ended up at the bottom of this river decades ago, perhaps as long ago as the late '80s or early '90s. It didn't get lonely in its hidden hideaway, though, as divers say they also saw three more vehicles nearby in the murky water, including a Jaguar and a VW Beetle.
Someone managed to first find this Corvette about three years ago, and the local sheriff's office tried to bring it back to dry land but failed because the car filled with silt and mud weighed so much and was trapped by a heavy log. Their attempt even ripped off a front wheel.
Fear not. This time, in the rematch with nature, these three adventuresome divers brought some better equipment with them, including airbags that they used to lift the Corvette to the surface, where a tow truck managed to pull it out of the water.
Unfortunately, in the process, more parts of the car were pulled off, too, including the rear bumper.

I had mixed emotions about seeing this video because my first Corvette 36 years ago was a 1980 like this one (though mine was red). That's why I was sad to see this one so badly damaged , but at the same time happy that it had been found and brought to the surface again.
We aren't told for sure how this Corvette managed to wind up at the bottom of the river, though rumor has it that the owner might have ditched it there for insurance purposes. No one knows for sure because he supposedly has fled the country.
We're just wondering if some of our readers might have some thoughts about whether this car is still salvageable. Based on the current value of C3s, we'd be surprised if it is worth putting back together again from a monetary standpoint, even if it could be.
Personally, I think its best and highest use might be to put it back in the water and make it a great conversation piece in a giant aquarium at a seafood restaurant.

Source:
Adventures with Purpose via yahoo.com

Related:
1980 Corvette Caught in Tennessee River's Flood Waters
[VIDEO] Emergency Brake Cable Failure During Photo Shoot Sinks a C3 Corvette
[VIDEO] Flooded C5 Corvette is a Victim of Hurricane Matthew