When Nathan Hibler says thank you for your service – and your friendship, he really means it.
Watch this heartwarming video as he surprises Bob Coveney with a silver 1967 Corvette that Hibler had secretly restored and modernized for his longtime buddy.
The two men met in 1974, a few years after Coveney returned from three stints in Vietnam. Hibler soon heard all about his friend's silver 1967 Corvette, a car he sold in 1968 between overseas tours, a decision he has long regretted ever since.
Fortunately, Hibler stepped in to provide a more fitting ending to this Corvette love affair.
"It's very similar to one he owned in 1968 when he was a pilot in the Army before going to Vietnam," Hibler says of the restored 'Vette. "He did three tours in Vietnam, one of which was as a combat helicopter pilot flying gunships."
Hibler says the two men have been friends since 1974, "and I finally have a chance to pay him back for all his friendship and all the fun we've had together."
Working with Sterling Hot Rods of Sterling, Va., Hibler had the classic C2 restored to original, but with a 21st century twist – bringing it up to date with new technology, engine, drivetrain, and fuel system "so it'll kind of be the best of both worlds."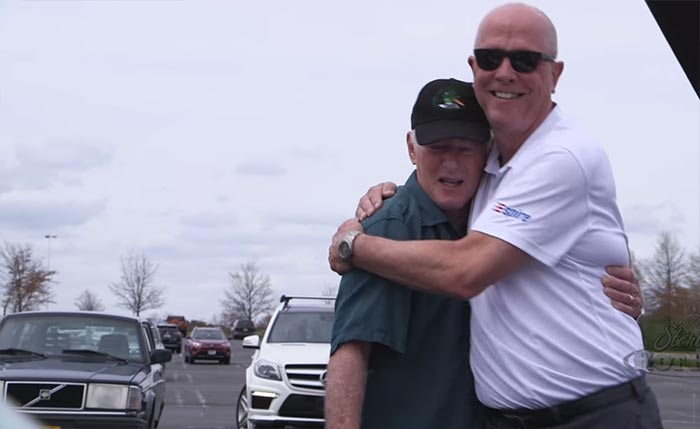 "We'll have the old style classic," Hibler says, "but we'll have an up-to-date drivetrain with fuel injection, variable spark, variable timing."
The old 327 engine was pulled out and sold, with proceeds going to the Wounded Warrior Project. In its place came a modern LS3 motor that cranks out 430 horsepower, about 150 more than the original. They also swapped out the old manual transmission with an easier-to-use automatic and added air conditioning for more comfortable summer driving.
"It should become a very, very nice running, driving Corvette you can drive every day and go anywhere you want with it and not have to worry about the old problems of the past with carburetors acting up, points, and earlier technology," Hibler says.
One of the big changes made was "we got rid of the nylon tires and put steel-belted radials on it," Hibler says, noting that nylon tires when cold don't offer a very comfortable ride.
Hibler calls the work that's been done on the car "nothing short of phenomenal – it's now completely stable, it drives hands off and stays on the road, and has more power than any car I've had in my life."

Once the big unveiling arrived, Hibler walks up to his friend and says, "Check this out."
They shake hands and hug.
"Are you kidding?"
"This is yours."
"Really?"
Another hug.
"Are you kidding?"
"No, I'm not, I'm not."
Hibler hands the keys to Coveney, who climbs behind the wheel and looks shocked when he hears the beautiful rumble of the LS3 engine.
"All I want is for you two to go cruise around in this on the weekend and do whatever you want to do," Hibler says. "Put your golf clubs in the front seat and go golf."
Another hug.
"Oh man, thank you!"
"You're welcome."
"This is something else," Coveney says as he revs up the engine. "This is speeding tickets… Is this legal?"
"Oh, yeah. The speeding tickets are on you."
"I've dreamed about that old car for a long time. I'm speechless … speechless."
"What'd you think when you got rid of the other car? Did you ever think you'd see this car again?"
"No, never, ever, ever – same color, too…"
With that, Coveney gives a wave and heads down the road to begin enjoying a Corvette that represents a 45-year bond between two friends.

Source:
onallcylinders.com

Related:
[VIDEO] Husband Surprises Wife Who Volunteers at the NCM with a New Grand Sport
NFL Player Christian Covington Surprises His Dad With a Corvette Stingray
[VIDEO] Family Surprises Dad with a C6 Corvette on Father's Day