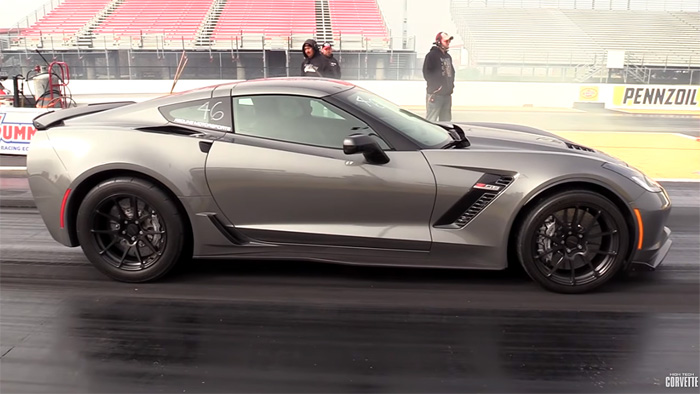 When it comes to the C7 Corvette Z06, many would say the factory LT4 with 650-hp is more than enough power to get them through the day. But the owner of this modded C7 Z06 wanted more power for his daily driver so he turned to the tuning experts over at Redline Motorsports.
We're not exactly sure of all the upgrades that were made to the car although an Edelbrock E-Force supercharger is shown in the engine bay. But it's not really a surprise to us to hear the Corvette was now laying down 1,055-hp to the wheels!
The owners says the car is mostly driven on the streets even with the Micky Thompson racing tires, but he occasionally takes in drag racing events like the "Quick 30" he was participating in just to see what it can do on the drag strip.
After watching the Z06 complete several runs in the nines at 150 mph, we would say its running just fine! Many times we'll see high-horsepower cars have trouble hooking up but the owner Glen seems to have the launch process down pat because there was hardly any wheel spin once the lights turned green.
The video comes from High Tech Corvette who posted the following description with the video:
This is an absolutely beautiful Z06, and it's a street car. Redline Motorsports did a great job making it this fast, Glen is a great driver as well. Now I need to figure out how to get me one of these. 🙂

The Quick 30 event is where we also captured those C6 ZR1s running in the nines as well. You can see that video here.

Source:
High Tech Corvette / YouTube via GM Authority

Related:
[VIDEO] Fastest Corvette Z06 Runs Quarter Mile in 9.3 Seconds at 150.8 MPH
[VIDEO] C6 Corvette ZR1s Having Fun at the Drag Strip
[VIDEO] Official GM Track Footage of the 2019 Corvette ZR1