I'm eager to see what our readers think about this very unusual 1978 Corvette.
Obviously, someone out there liked the look well enough to pay more than $20,000 for the custom IMSA Daytona wide body kit that was then added to a base 25th anniversary Corvette.
Now the almost-finished project is up for sale on craigslist.com in the Fort Myers, Fla., area at the asking price of $14,500 (or he'll take trades).

Sadly, the seller points out that his dad bought the car five or six years ago but was only able to get it 90 to 95 percent complete before he passed away.
"If you want a fun daily driver that will get as much attention as a Batmobile and are willing to put in a little sweat equity then this is the ride for you!" the seller says.
Personally, I like the front and side views, but the rear end is kind of weird looking, even though the kit is designed after the Greenwood Daytona Turbo cars that sell for hundreds of thousands of dollars, at least according to the ad.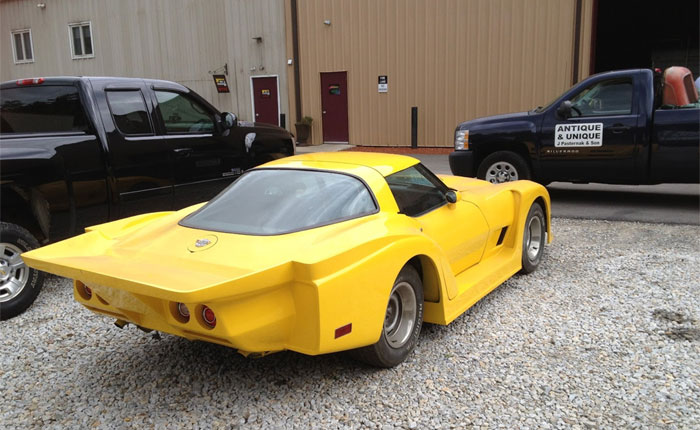 We aren't told much about the car's options or mechanical condition, with the ad only saying that it's being "sold as-is, as it sits and as pictured." The seller does provide the most recent photos available from March 2018, which show a below-average interior with no radio and an exterior with cracking of the paint around each door handle that he blames on the heat and rain over the last few months.
Overall, this 1978 "is one of the most unique Corvettes that you will ever see," the seller says.
You can see more photos at DaytonaCorvette.blogspot.com.

Source:
Craigslist.com

Related:
Corvettes on eBay: Plasti-Dipped 1976 Greenwood Turbo GT
Corvettes on Craigslist: 1977 Greenwood GT Widebody Corvette
Lingenfelter's 1981 Corvette Greenwood GTO Invited to Amelia Island Concours