The 2016 Amelia Island Concours d'Elegance takes place this weekend in Amelia Island, Florida. One of the show's features this year is a tribute to late Corvette racer John Greenwood. Included in the invitation-only display of rare Corvettes will be a black 1981 Corvette Greenwood GTO owned by Ken Lingenfelter which is housed in his immense collection.
The great John Greenwood was a racer who piloted Corvettes at the 24 Hours of Le Mans, 24 Hours of Daytona, and the 12 Hours of Sebring. He also owned Greenwood Corvettes with his brother Burt Greenwood where they built and tuned Corvettes for the street and track. Built in low numbers, Greenwood Corvettes were known by their wild widebody exteriors and thumping motors under the hood. Greenwood passed away in July of last year at the age of 71.
Today Greenwood Corvettes are quickly gaining popularity in the collector car market.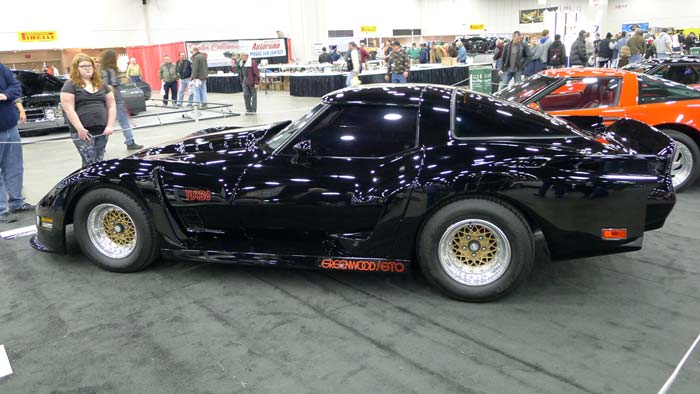 "It's a tremendous honor to have the opportunity to display this magnificent and historically significant automobile in John Greenwood's honor. It is one of only four ever built," Lingenfelter said. "The man's dedication to the Corvette is undeniable and the Amelia Island Concours d'Elegance is an ideal venue to allow automotive connoisseurs to view this rare vehicle."
Lingenfelter's 1981 Greenwood GTO is the only four-speed manual transmission Greenwood GTO in existence. It features the famous widebody styling which was now more refined than on previous GTOs which wore the more radical Daytona bodies. The Darth Vader black 450hp GTO sports a red leather interior with power seats and power windows. Naber's Motors and Ayers Paint & Body in Houston, Texas performed a thorough ground up restored on the GTO in 2004.
Power comes from the original balanced and blueprinted L82 engine which is force fed by a turbo charger. The 450 plus horsepower gets to the ground via a 4 speed transmission, custom brakes, and sticky tires mounted on BBS wheels.

We first saw this car at the 2015 Detroit Autorama in the Significant Corvettes of the Past Display. The crazy body work and black paint give it a sinister appearance. Being the only 4 speed GTO built, be sure to check out at Amelia Island this weekend. It'll be displayed on the west end of the show field near the pond.
The 2016 Amelia Island Concours d'Elegance takes place this weekend in Amelia Island, Florida. Since its inception, the show's Foundation has raised more than $2.5 million for deserving charities. For more information, visit www.ameliaconcours.org.

Source:
Lingenfelter

Related:
Legendary Corvette Racer and Racecar Builder John Greenwood Passes Away at Age 71
[PICS] The Significant Corvettes of the Past Display at Detroit Autorama
CorvetteBlogger.com Visits the Lingenfelter Collection