Shadow Gray, the first of two new colors for 2019 Corvettes, officially starts production today.
Shadow Gray (PRO GJI) and Elkhart Lake Blue (RPO G7Q) were announced as new colors previously this year at the NCM Bash in April. The new colors are replacing Watkins Glen Gray and Admiral Blue.
Back at the Bash, several painted panels were shown off. To us, the new Shadow Gray appears to have blue undertones, and will probably compare favorably to the popular Cyber Gray found on late C6s and early C7s.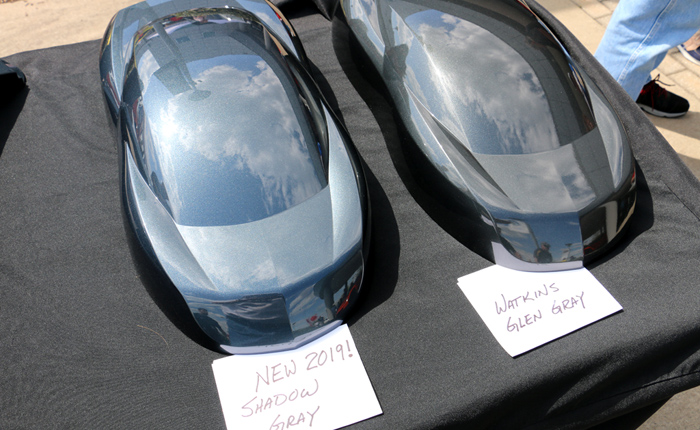 Although unconfirmed, many of us believe the 2019 Corvette ZR1 show car originally displayed at the LA Auto Show was painted in Shadow Gray. More recently, our friend Nate Chandler of Van Bortel Chevrolet says a Chevy rep confirmed the Shadow Gray exterior on the Corvette ZR1 featured in the Corvette performance display at Lime Rock Park.
Hopefully, we'll be able to see the new Shadow Gray color on a new 2019 Corvette at Corvettes at Carlisle later this month. Then the real comparisons will be able to be made.
And speaking of Admiral Blue, the dark blue color will officially end production a week from today on August 13th. You will be able to start ordering Elkhart Lake Blue on August 30th, with the first day of production scheduled for October 1st.

Related:
[PICS] Shadow Gray and Elkhart Lake Blue Exterior Colors Introduced for 2019 Corvettes
Production and Pricing Update on the Two New Exterior Colors for 2019 Corvettes
[VIDEO] Corvette Production Team Answers Your Questions at the 2018 NCM Bash