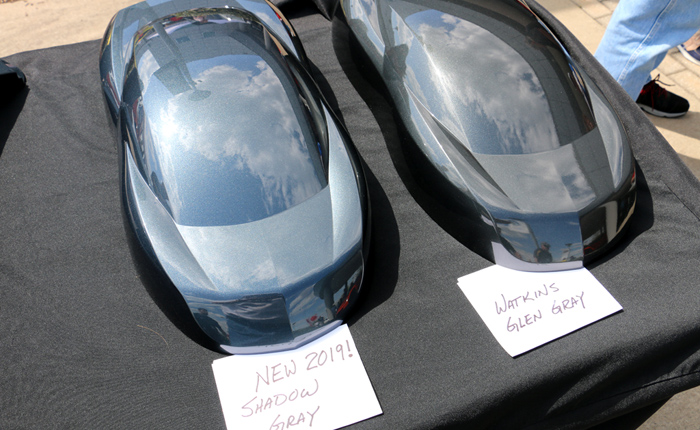 The news that Chevrolet will be offering two new exterior colors for the 2019 Corvette model year broke back in April right around the dates of the NCM Bash. It was at the Bash that we saw the first examples of the new exteriors and learned the production and ordering deadlines. Now that we are closing in on one of those important dates, we wanted to post this reminder as well as the new info we have about pricing.
Tomorrow is Thursday, June 28th and it's the first day that ordering opens for the new Corvette exterior color called "Shadow Gray". Production of the new gray (RPO GJI) will start on August 6th and will replace the current Watkins Glen Gray (PRO G7Q), which was scheduled to wrap production on June 18th.
Also, tomorrow is also the very last day to order a new 2019 Corvette in Admiral Blue (RPO GTR). That color is being replaced by the brighter "Elkhart Lake Blue" (RPO G7S) with the first order date coming August 30th and production starting on October 1st.
Today we learned from our friend Mike Furman at Criswell Chevrolet that both of these new exterior colors will be offered at "zero cost" prices, meaning there are no upgrade charges for selecting either of the two new colors. That pricing is in line with the current options for Admiral Blue and Watkins Glen Gray, which were also "zero-cost" exteriors.
Chevrolet currently offers ten exterior color choices for 2019 Corvettes and three of them are available at an additional cost. Those colors are Long Beach Red Metallic, Corvette Racing Yellow and Sebring Orange. All three are classified as "tintcoats" and they add $995 to the cost of your Corvette.
During the NCM Bash, Chevrolet did not have any fully painted cars in the new colors, but they did show off some painted quarterpanels and a couple of design buck examples:

Source:
Mike Furman at Criswell Chevrolet

Related:
[PICS] Shadow Gray and Elkhart Lake Blue Exterior Colors Introduced for 2019 Corvettes
[PICS] New Gray for 2019 Corvettes is Shown in These Official Dealer Color Chip Displays
Leaked Options List Reveals Two New Colors for 2019 Corvettes