Without the vastly improved 1984 Corvette 34 years ago, you could argue there would be no even more vastly improved 2019 C7 ZR1 today.
Still, would you be willing to pay $15,988 for a groundbreaking, first-year C4 that's covered just 5,967 miles since new?
That's the situation right now as Mangino Chevrolet in New York is offering an ultra-low-mileage '84 that's "fresh-from-the-wrapper," as described in a current Autotrader ad.

"That's not a typo," the ad continues, "and there's no odometer error."
The car was recently purchased by the Chevy dealer from the original owner who kept it in a climate-controlled garage its entire life.
"This car is incredible!" the ad boasts. "It's 100% original. You will not find another car like this."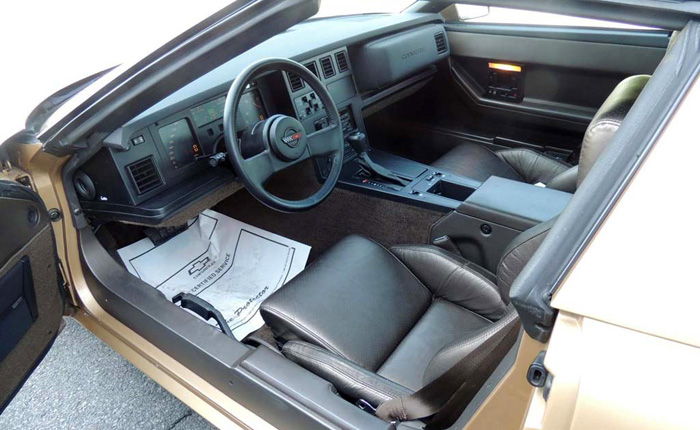 Not only is the mileage very low, but this Corvette is also not in the usual red or silver or white you think of for an '84 – no sir, this one is Gold Metallic with a Bronze interior.
"You have to see this Vette to believe it," the Mangino ad says. "It's not a resto or a mod, has never been painted, etc."
Seeing this ad made us wonder what might be the highest and lowest mileage 1984s we could find currently on the market.
A quick search on Auto Trader this afternoon found an '84 with a whopping 291,570 miles – offered at the price of $4999.

But we were surprised how many examples are for sale with 60,000 miles or less on the odometer. We even found one with 18,800 miles for the reasonable price of just $10,000. Still, even that could be too much on the open market.
The point is it may be very difficult to sell this Gold Metallic '84 for nearly $16,000 – no matter how low the mileage is and no matter how great a condition it's in.
How about you? How low would they have to go to convince you to buy this '84?

Source:
AutoTrader.com via BarnFinds.com

Related:
Corvettes on eBay: 1984 Corvette is One of Two Painted Hugger Orange for Jim Gilmore and AJ Foyt
Corvettes on Craigslist: 1984 Corvette with Gulf Oil Livery
Family and Friends of Don Oliverio Donate his 1984 Corvette to the Corvette Museum