Having a few years under my belt now, I can remember well the excitement and mystery surrounding the 1984 Corvette. It was just as exciting to us enthusiasts back then as the current C8 speculation, minus, of course, the minute-by-minute updates on the Internet we have these days.
It took me two years, but I finally was able to buy a new 1986 Corvette coupe and thought I had hit the lottery with the acceleration of that "powerful" 235 horsepower engine pushing my head into the back of my seat. Of course, I was comparing it to the 132- horsepower Datsun 280ZX that I used to own.

Over the years since then, I've all seen a lot of early C4 Corvettes (don't you hate those wheels compared to the beauties that were on the late C3s?) but don't think I've ever seen a Hugger Orange C4 like the one currently up for sale on eBay.
And for good reason.
The seller claims that this is one of only two Hugger Orange Corvettes built in 1984, the first year for the C4, of course. Considering more than 51,500 cars were produced in that long model year, that makes this Corvette one rare creature.

According to the eBay listing, the car was one of two Hugger Orange Corvettes authorized by Chevy boss Robert Stempel to be built for Gilmore/Foyt Racing – this one for Jim Gilmore and another one for A.J. Foyt. Gilmore owned Gilmore Chevrolet / Cadillac / Pontiac in Kalamazoo, Michigan and Abraham's Chevrolet in Miami, Florida. He sponsored championship race cars for 23 years, partnering with Foyt from 1973 to 1990, including an Indy 500 championship in 1977. Gilmore died in 2001 in a freak traffic accident.
If you're into pristine early C4s, then this might be your cup of team since it has apparently been a museum piece and has just 22,669 miles on the odometer.

Photos show an immaculate example, with the engine bay, interior, and paint in tip-top condition. It's also heavily optioned with six-way power seat, power door locks, cruise, Delco Bose stereo with cassette, heavy duty radiator, Z51 handling package, rear window and side mirror defrosters, and saddle leather seats.
The new owner will also receive a ton of documentation, including the original window sticker, factory special paint work order, original owner's manual, instructions, and photo history. A photo even shows the car when it was part of the legendary Bob McDorman collection for years and was displayed next to Johnny Carson's and Diana Shore's former Corvettes.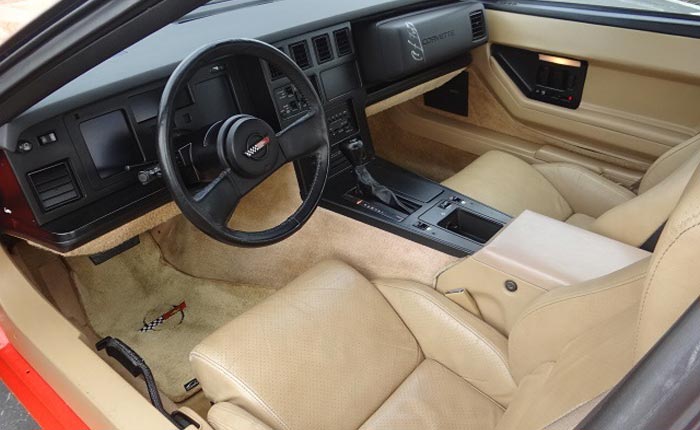 barnfinds.com about the car brought a wide range of comments on the asking price of $32,900, including:

"One of these cars, perhaps Foyt's, was raffled by the International Motor Racing Research Center at Watkins Glen a few years ago. A unique car that might just be worth the substantial premium for a 1984 Corvette."

"Cool. A $6,000 Corvette with a $26,000 paint job. Best of luck to the seller."

"Boring Vette and a 8,000 at best. Dream baby dream. Stick it in a barn baby."

"At the end of the day, it's still an 84 Corvette."

And lastly and perhaps most accurately:

"The market will decide."

So what do you think? Would you pay this much for a very nice 1984 Corvette with a rare paint job and a side-ways connection to a racing legend?

Source:
eBay via barnfinds.com

Related:
[POLL] What's the Best Corvette Orange?
Corvettes on Craigslist: 1984 Corvette with Gulf Oil Livery
Family and Friends of Don Oliverio Donate his 1984 Corvette to the Corvette Museum