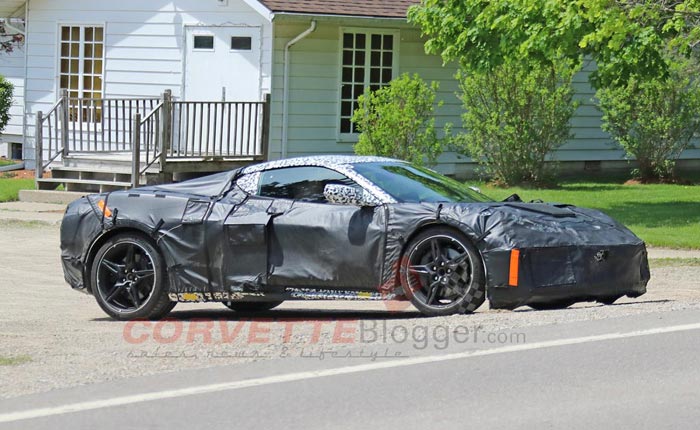 Photo Credit: Spiedbilde

One of the reported new features of the mid-engine C8 Corvette is a front axle lift system that will have multiple applications for the driver. If you have ever cracked a $3,000 carbon fiber spoiler on a speed bump, curb or other obstruction, this will be of interest to you.
Front Axle Lift Systems have been found on high-end cars for several years now. Pratt and Miller's custom C6RS Corvette had an axle lift system and Porsche rolled out their optional system in 2015.
Porsche's system can raise the 911's front end by 40mm or about 1 1/2 inches. The 911 system uses a button on the console to raise or lower depending on the obstacle. The price isn't terribly expensive with Porsche charging $2,590 for the option in the US. Here is a quick video showing how the system works:

The system that we are hearing about on the 2020 Corvette will supposedly take the axle lift system even further.
The system will allow the car to be raised and lowered on the fly, but unlike the Porsche system, the Corvette's axle lift can be tied to the car's aerodynamics by changing the angle of the vehicle based on the vehicle's speed. The active aerodynamics will feature a power-operated rear spoiler and the front and rear systems are tied together as a patent application filed in 2016 shows: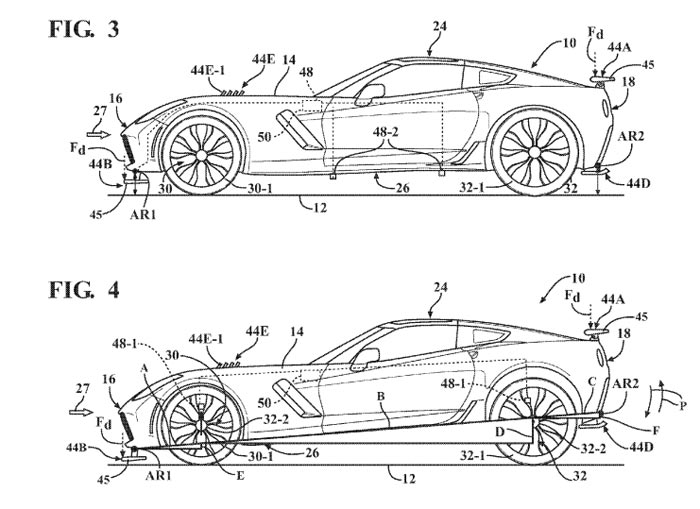 Recent spy photos of a mid-engine C8 Corvette may be showing the axle lift system in action to clear obstructions. In the first photo, we see the C8ME in a gravel parking lot and it's approaching the road which is taller than the parking lot surface.
The space between the passenger side front wheel and the top of the fender looks to be normal with maybe an inch to 1 1/2 inches of clearance. As the Corvette approaches the road but before the front wheels touch pavement, it looks like the gap between the fender and wheel increases susbstantially: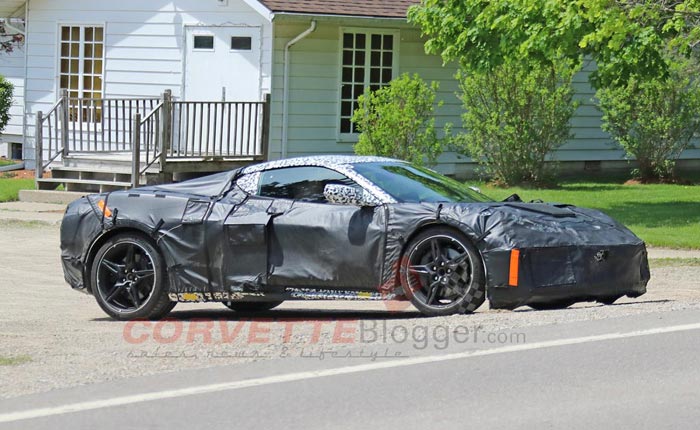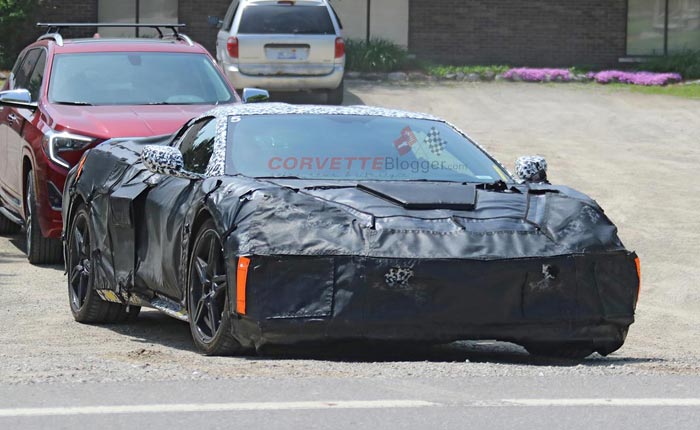 Some of the gap distance can probably be explained by the geometry of the four wheels in relation to the road, but even before the front wheels touch the pavement, it does look like an axle lift system is being deployed.
Seeing how Chevrolet has offered and priced various aerodynamic packages previously, we wouldn't be surprised if the axle-lift system was offered in several different configurations. To keep the C8 MSRP low, we think GM will offer the system in a couple of different options: a stand-alone front-axle lift as well as a full active aero package.
With either package, the ability to save your Corvette's front splitter from scraping on speed bumps or being damaged on a steep driveway may soon be a thing of the past.

Source:
Photo Credit: Spiedbilde
Related:
[VIDEO] The Mid-Engine C8 Corvette's Exhaust Sounds and Lightning Quick Shifts
[VIDEO] Short Clip of the Mid-Engine C8 Corvette at a Stop Sign
Patent Application Details Adaptive Aerodynamics Plans for C7 Corvette