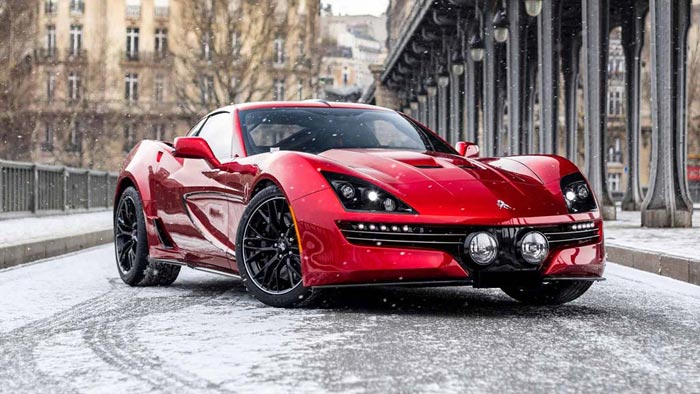 When the C7 Corvette first appeared, some old-school enthusiasts didn't much care for the radical new rear end treatment.
Well, here's their chance to put their money where their mouth is and pay homage to the old days in more ways than one.
The good folks at Equus Automotive, a boutique American carmaker that honors the design and power of classic muscle and sports cars, have come up with a Corvette they have appropriately enough dubbed the Throwback.

It's a C7 Corvette that has been "backdated" to include features like side scallops from the original C1 and a roof crease from the split window C2, along with the classic round taillights from later generations.
While we don't particularly care for the side view, we must say we are quite fond of the two spotlights mounted in the middle of the front bumper, and while we have always liked the stock C7 rear end, we also are big fans of the Equus treatment here.

Only 25 of these Throwbacks will be produced, and each of them will be one-of-a-kind, as Equus will allow each customer to personalize their car.
The cars start out at $130,000, which we don't think is too out of line considering the exclusivity that will come along with owning a Throwback.
For that money, you'll get a seven-speed manual transmission, but a Hydra-Matic 8L90 automatic is an option.

The 6.2-liter supercharged engine can be upgraded to reach up to 1,000 horsepower and 822 lb-ft of torque and will be capable of a top speed of 220 mph, as well as an impressive time of 2.5 seconds from 0 to 60 mph.
Troy, Michigan-based Equus says the Throwback "uses unique styling language in its outer skin to create a breathtaking version of the ultimate Corvette."
We're inclined to agree. What's your take on this Throwback?

Source:
Equus Automotive via autoevolution.com
Related:
[PICS] ARES Design Shows Off Their Coachbuilt 1964 Corvette Restomod
Genovation to Build a Fleet of 200 MPH Electric Corvettes Costing $750K Each
Corvette-Powered Laraki Motors Epitome Concept at Pebble Beach 2013