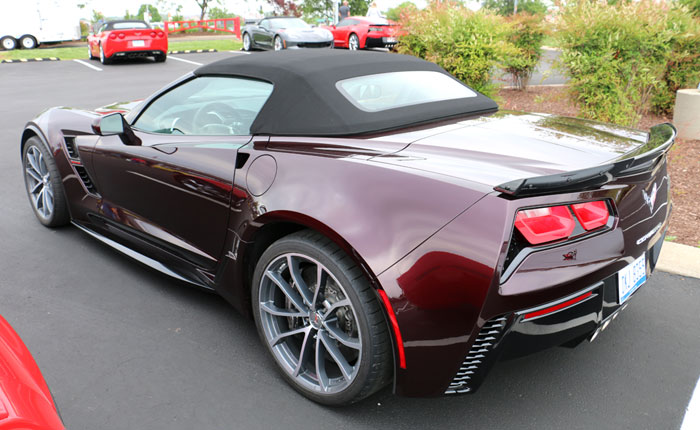 The National Corvette Museum's newsletter today reaffirmed the news that Black Rose Metallic was being phased out of the 2018 model year. Production of the color will end when the plant shuts down for the months of August-October to perform a number of upgrades.
Corvette Product Manger Harlan Charles supplied some good news for Corvette buyers when he confirmed a new color is coming but tempered expectations that it will be ready once the plant restarts 2018 production in November:
"Basically we are painting Black Rose until the plant shut down happens in August and it won't be brought back when we start back in November," said Harlan Charles, Product Marketing Manager for Chevrolet Corvette and Camaro. "We will replace it with a new color TBA, but [that] may not be right away."
They were always going to replace it with another color, but the timing of that color's introduction will be interesting to watch as we are looking at the potential of having the 2018 Corvette ZR1 available sometime in early 2018. As Chevrolet has done multiple times in the past, the new car could be offered with the new color as a limited edition package.
Still, it's kind of sad to see the Black Rose Metallic go away after just a full model year and two months of another. According to the NCM, the color graces a total of 1,333 Corvettes and those owners should be more than happy to own the red wine C7s. The color has a strong following and hopefully Corvette owners will not have to wait another twenty-three years to see it again.
Having said all that, there is still time to order a Black Rose Metallic Corvette for 2018. The final date for 2018 orders to be accepted and the cars built before the three-month shut down is June 12th. Check with your Chevrolet dealer for details!

Source:
National Corvette Museum

Related:
Black Rose Metallic Will Be Retired Before Summer Factory Shutdown
[POLL] What's Your Favorite New-for-2017 Corvette Color?
[PICS] 2017 Corvette Grand Sport Convertible in Black Rose Metallic
[PICS] Black Rose Metallic Returns to the 2017 Corvette