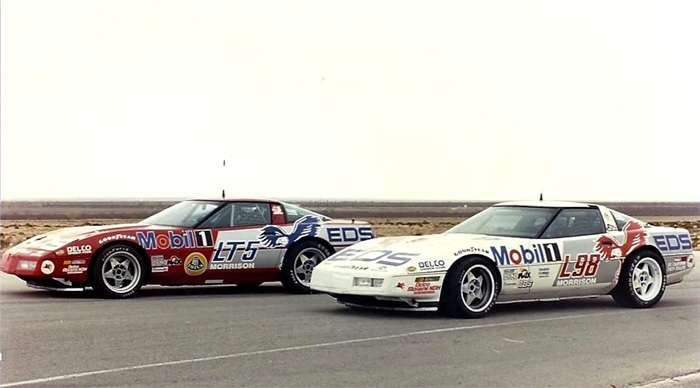 With rumors flying and spy photos appearing all over the Internet about a possible ZR1 – C7 style on the way soon, it's fitting that the National Corvette Museum in its Heritage Series Videos has taken a look back at the C4 ZR-1 and its history-making accomplishments of 1990.
While the 1990-95 ZR-1s don't seem to get as much love these days as they should, this video serves as a fitting reminder of just what a special "King of the Hill" this Corvette was.
The video includes past and present interviews with several of the key players on that record-setting day now 27 years ago, including drivers John Heinricy, Stu Hayner, Jim Minneker, Tommy Morrison, and lots more.

The talk about setting a new 24-hour speed endurance record started when it was realized that the existing mark was 40 years old and was just 161 mph. Since the Corvette was capable of doing 180mph in street form, it sounded like a no-brainer to try and beat it, in the words of Minneker. Some inside Chevrolet said it couldn't be done, because of all the variables that could quickly throw a monkey wrench at them, but an accomplished team of eight drivers didn't listen to that negative talk.
In fact, the 1990 ZR-1 ended up setting three world records at a test track in Fort Stockton, Texas on March 1, 1990 – 5,000 km (3,100 mi) at 175.710 mph (282.778 km/h), 5,000 miles (8,000 km) at 173.791 mph (279.690 km/h), and 24 Hours Endurance at 175.885 mph (283.059 km/h) for 4,221.256 miles (6,793.453 km).
"It's not a highlight of your career," Heinricy said, "it's a highlight of your life to go out and do something that successful."
Added Hayner: "The car was just beautiful. It's amazing a car can come right off the showroom floor and run 180 mph and be so comfortable to drive – I mean, other than the ball of my foot tingling from pushing so hard on the throttle trying to go faster – that was the only thing."
Minneker, Corvette Powertrain Systems Manager, praised the Corvette as "incredibly stable" doing 180 mph thanks to the Selective Ride System. "It's essentially like riding down the freeway."
Tommy Morrison (right) and Stu Hayner (left)

Heinricy summed it up best: "Running this event for us is making a statement about the durability and reliability of the Corvette as well as its performance potential. We feel like we have something to tell the world about what this car is all about and how it stacks up against other cars in the world for endurance, performance, and that kind of thing."
He compared it to running 10 Indy 500s back to back at 175mph – "just incredible."

So before you get lost in the excitement of the new ZR1 that could now be just months away, don't forget about the legacy of the 1990-95 ZR-1 that paved the way. Tadge Juechter and his crew of engineers have some big tires to fill, but based on the magnificent C7s they've already done, can you imagine what a monster the new ZR1 will be when and if it appears?

Source:
National Corvette Museum / YouTube

Related:
[VIDEO] Corvette Museum Heritage Series Features the Don Messner Collection
[VIDEO] 30 Years of Callaway Corvettes: 1991 Callaway B2K Twin Turbo 100 Plus Car
Are C4 Corvette ZR-1 Prices Poised for a Comeback?