When it comes to uncovering old long forgotten Corvettes, opening up that garage or barn door can be compared to opening that prized gift on Christmas morning. Your mind is running wild with thoughts of what could possibly be inside. Is it the exact one I wanted? What color will it be?
Back in the day, Albert Way bought a brand new 427/400 powered Marina Blue convertible with a black stinger, black interior, and side pipes. Way would end up auto crossing his big block C2 before eventually parking it. As the years went by Way became increasingly involved in sports car racing. He would travel the world piloting his own vehicles or driving cars for other owners. He would eventually end up basically parking all of his cars and spend his later years driving around an old pickup.
Enter New Jersey car collector John Haynal and his friend Doug. While working on an intake manifold for Haynal, Doug mentioned that Albert Way has passed away and that his 1967 Corvette was now part of the estate.
Haynal immediately drifted back to the early 1980's when he worked as homebuilder and way did some work for him. At one point Way took Haynal to see his collection of cars which included a TVR, a couple of Cheetahs, and a Can-Am racer in addition to the blue Corvette.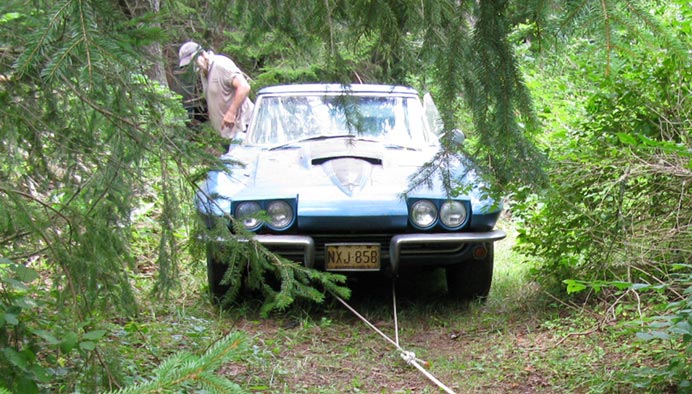 Haynal would later contact Albert Way's brother, Ron, who was handling the estate in order to view the 1967 Corvette that had been parked for 35 years. The car was stored in a pole barn of sorts constructed of old telephone poles. It was capable of holding 8-9 cars.
Once inside the pole barn Haynal found the C2 sitting on 4 flat tires covered in dust and surface rust but largely still intact. It still wore its lacquer Marina Blue paint, bolt on wheels, and hard top. Initially he thought the car was powered by the 390hp big block, but was surprised to find the much rarer 400hp L68 sitting under the hood. The L68 was the 3rd lowest production big block after the virtually unobtainable L88 and L89 engines. Inside, the black interior was a little wet but had no rips or tears. A locked up right rear wheel and 30+ year old trees made for quite the challenge to free the lost Corvette.
Haynal was eventually able to purchase the Corvette and plans to just get it running and drive it. "We live about a mile from the beach. We plan to just use it as a summer car, take it to local shows, take it to Carlisle"
So once again we see that they really are still out there. Great old Corvettes are still hiding just waiting to be found again so get out there and get searching!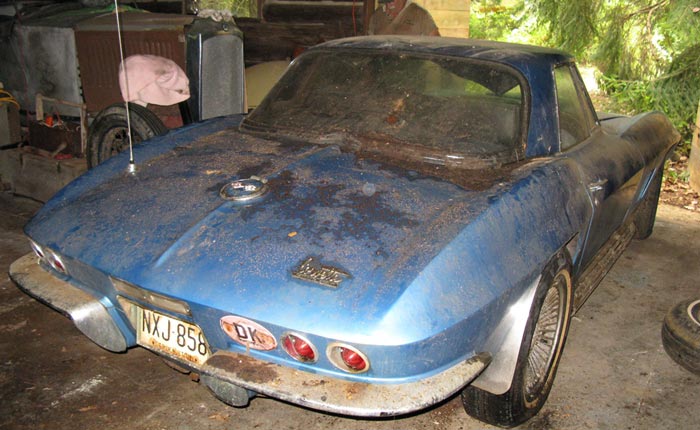 Head on over to Super Chevy to read and see more about this reborn 1967 Corvette.

Source:
Super Chevy Magazine

Related:
[PICS] Retired GM Engineer Rescues a Barn Find 1955 Corvette Stored for 48 Years
1963 Corvette Racer Resurrected After 50 Year Hibernation
[POLL] What Would You do With this Barn Fresh 1966 Corvette?