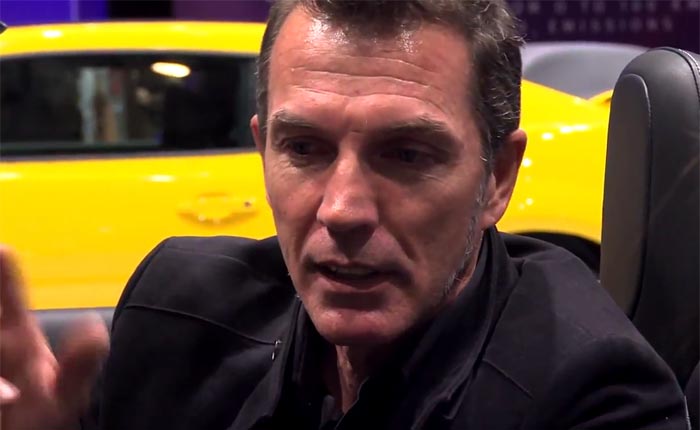 How would you like to be in the shoes of Michael Simcoe, the new General Motors Vice President of Global Design?
Not only does he have to fill the rather large shoes of Ed Welburn, who retired from that chief position after an illustrious GM career that included the madly successful C7 Corvette, but now Simcoe has to follow that big hit up with the rapidly approaching C8 Corvette.
As if that weren't enough, rumor has it that the eighth-generation Corvette will finally be switching to a mid-engine format that's been swirling around for decades. That change will be controversial in itself; a wrong turn in the design could be devastating to the 'Vette's reputation.
While he didn't offer any specifics to Wheels during an interview, Simcoe acknowledged the "emotional pressure" of designing an icon but also at the same time pointed out the excitement of being involved.
"Being part of a Corvette design is very exciting for everyone involved," he said, "and there certainly will be a next generation Corvette at some point."
Of course, he knows this isn't a Camry – everyone will be looking at – and judging – their final C8 Corvette product.
"You're dealing with an icon that's been successful, consistently successful, and you don't want to be the one who blew that," Simcoe admitted.
Personally, we have no reason to doubt that Simcoe and his crew won't be up to the challenge and can't wait to see what they come up with.
Simcoe has experience with pressure. He has deep ties to Holden and compares the current C8 project to the top secret reborn Holden Monaro with which he was intimately involved in the early 2000s.

Source:
Wheels Magazine via GM Authority

Related:
GM's Global Design Chief Ed Welburn Set to Retire on July 1st
Aria Group's Fast Eddy Mid-Engine Corvette is a Design Concept We Can Get Behind
[SPIED] Spy Photos Capture Side View of the Mid Engine 2019 C8 Corvette