Retired GM engineer Jim Wallace never knew a 1955 Corvette was hiding from him for years just eight miles from his home.
It took a special set of circumstances, however, for that information to finally come to light earlier this year, according to a story on the Super Chevy website.
Jim and his wife Cindy attended a Morrel Mushroom Dinner back in the spring, where they were seated randomly with eight other people. Two of those people turned out to be George and Julie Cromer, and as they continued to talk during the evening, Jim and George discovered they were both retired from GM as engineers!
Furthermore, they both shared an interest in Corvettes, with George unloading a casual bombshell when he explained that he had one of the just 700 Corvettes built in the 1955 model year, having purchased the Pennant Blue roadster in 1959 from a Detroit dealer and parked it nine years later in his garage, where it had been ever since.
Jim naturally asked if he could see the car, and after a three-week delay for the Cromers to come back from a scheduled vacation to the Far East, he had to travel down the road just eight miles to get a look at this piece of long-neglected automotive history.
While dust and dirt had built up on the car over the past 48 years, Jim was still able to deciper that many of the original parts were there, including the 265 V8 engine and even the original BF Goodrich Silvertown whitewall spare tire and steel wheel.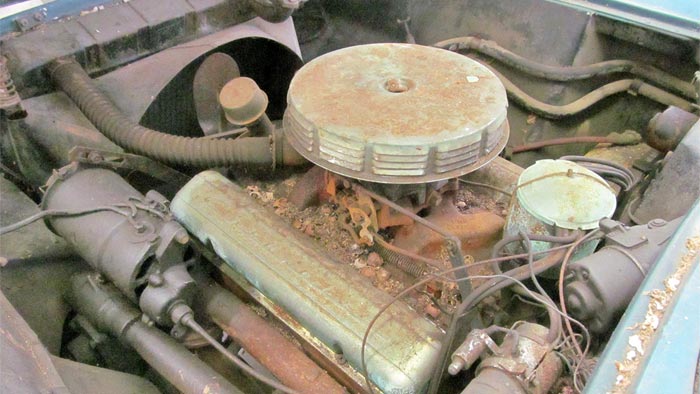 While the interior had been ransacked by decades of chewing by rodents, Jim soon concluded that the 61-year-old Corvette was basically all there and definitely in good enough condition to restore.
After getting permission from the Cromers' children, who said they didn't want the heirloom car, Jim soon found himself the owner of a 1955 Corvette.
It joins a remarkable two other barn finds made by Wallace, who had earlier discovered two 1969 Le Mans Blue L88s – one in 2010 that had been parked in the same spot for 31 years and another in 2013 that had been resting in a barn untouched since 1988.
As for the 1955, it's undergoing a total body-off restoration in Gillespie, Illinois, where Dick Ferrando and his team at D&A Corvette plan to bring it back to factory correct standards in less than two years.

Check out SuperChevy.com for the huge photo gallery of this very cool 1955 Corvette barn find.

Source:
SuperChevy.com via BarnFinds.com

Related:
1963 Corvette Racer Resurrected After 50 Year Hibernation
[POLL] What Would You do With this Barn Fresh 1966 Corvette?
[VIDEO] 1958 Corvette Discovered in an Old Canadian Barn