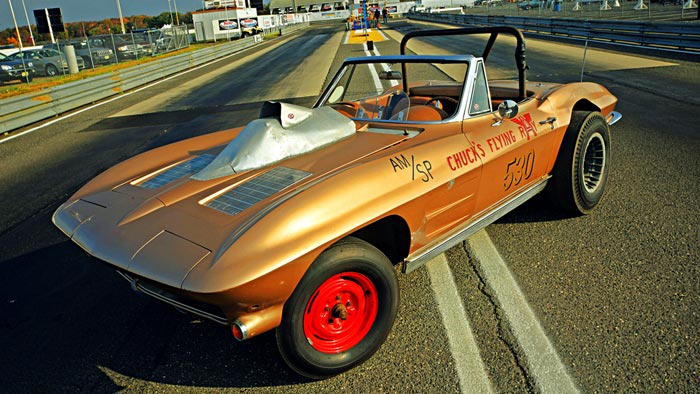 We always love hearing about a great barn find Corvette or other forgotten Muscle Car. When that Corvette turns out to be old racer, like this 17,000 mile 1963 recently pulled from a Pennsylvania garage after several decades of sleep, the story gets just that much better.
This car's story begins with a lanky, 6'6″ speed fanatic named Hank Wendt. He earned his pay as a pipefitter in the Philadelphia area while dreaming about taking on the NHRA's best. In early 1963 he purchased a saddle tan 1963 convertible from Farmer Dick Barone Chevrolet in Springfield, Pennsylvania using money earned from working double shifts at his job. He initially drove the car on the street, but decided it was time to go racing.
Towards the end of 1963 he pulled the Corvette into the speed shop where several of his friends worked and the modification began. He was ready to finally build his "Cobra Killer". Armed with a hacksaw he took to the rear wheel wells in order to fit Halibrand wheels wearing Racemaster slicks. The conversion to all out racecar was on. Later he'd cutout areas for the vertical portion of his homemade roll bar as well as space for the blower to fit.
Underhood modifications included the addition of a GMC blower sporting Hillborn fuel injection. Check out Hank's handmade guard surrounding the supercharger's chain drive. He replaced the stock 4-speed with a B & M Hydrostick transmission. Custom fabricated headers and a hand pump for engine priming helped make this C2 track-ready. He also added a hand activated push rod fuel cutoff under the dash. Other period modifications include 1944 date coded seats and a Plexiglas windscreen to replace the full-width windshield. In an interesting move, he relocated the gas pedal to the passenger side floor board. He actually drove the car straddling the center console. Check out the now-useless clutch pedal which was welded the existing brake pedal for easier locating when it was time to slow down. His modifications show the mantra of hot rodders of that time – it doesn't have to be pretty, it just has to work.

The remainder of the Corvette's body was readied for battle with graphics including a mongoose – the only animal that can kill a cobra. The car was now known as "Chuck's Flying Ray".
The car was tuned at nearby Atco Raceway. History indicates that Hank later went to the 1964 NHRA Nationals in Indianapolis where he struggled to find speed. From there it was back home for an engine rebuild then to Hank's garage where it would sit for 5 decades.
He'd later get involved in boat racing with Mike Conte where he'd have much more success, even setting a class record and winning the championship together in 1985. They'd also attend Corvettes at Carlisle over the years to keep immersed in the Corvette scene.
In 2013 Hank passed away at the age of 71. After Hank's death, Conte stayed in touch with his wife Peggy. One day she indicated that she had an interested buyer in Hank's old Corvette. Interestingly not even Peggy or Mike Conte had ever even physically seen Hank's Corvette. They struck a deal to sell the car to Mike and his friend Trevor Kirsh sight unseen.

Today Mike and Trevor are the caretakers of Hank's Corvette. They plan to keep it just the way Hank built it in all of its period-correctness. It's a great example of long gone era when racing was as simple finding whatever you could to make your car go faster and then doing the work by yourself or with your friends. It's dripping with history and that's just the way we like 'em.
Head on over to Hot Rod to read more about this amazing Corvette.

Source:
Hot Rod

Related:
[POLL] What Would You do With this Barn Fresh 1966 Corvette?
Corvettes on Craigslist: Barn Find 1964 Corvette Sting Ray Sport Coupe
[BARN FIND] 1963 Corvette SWC Wastes Away in L.A. Parking Garage