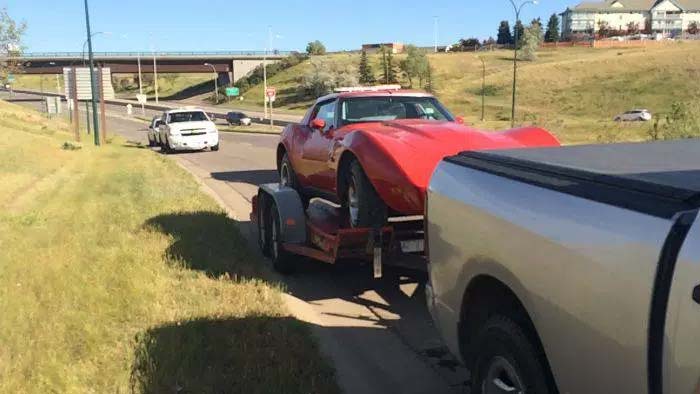 Photo Credit: Coaldale RCMP

Car thieves, we would assume, want to be as inconspicuous as possible.
Someone forgot to remind a Calgary man about that.
Global News in Canada reports someone broke into a Coaldale home around 5 p.m. Tuesday, and a witness then saw him loading up the victim's 1976 red Corvette onto a U-Haul trailer and driving away. He also stole a rifle, cash, and other personal property.
Naturally, a classic red Corvette being pulled behind a pickup is pretty easy for the cops to spot, and so, about an hour later, the alleged thief was pulled over headed west on Highway 3 at Scenic Drive.
Coaldale RCMP charged the 46-year-old Calgary man with several property crimes after catching him red-handed with the red Corvette behind his truck, not to mention the other stolen items also in his possession.
We're glad this thief wasn't very bright, and the victim was able to get back his Corvette and other stolen items. Stories like this don't always have such a happy ending.

Source:
GlobalNews.ca

Related:
Police Shut Down Corvette Chop Shop in California
[VIDEO] Couple Arrested After Buying Corvette Z06 with Bad Check
Man Driving Stolen Corvette Arrested After Fatal Crash with SUV