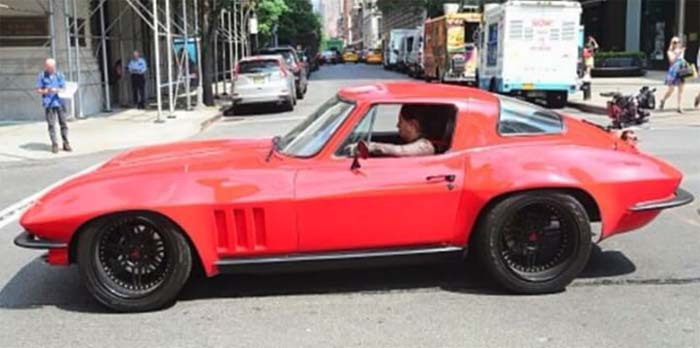 Whenever there's a "car movie" on the big screen, it's definitely always more exciting for Corvette enthusiasts if there is one of "America's Favorite Sports Car" in the scene.
Well, Hollywood is getting ready for another rendition of the "Fast and Furious" series, and good news, "Fast 8" is going to feature a 1966 Rally Red Corvette.
Chalk up a great reason to watch this movie when it hits the screens on April 14, 2017!
Actress Michelle Rodriguez is the lucky person who will be driving the Corvette in the film, but don't worry about her skills. The 38-year-old actress is definitely no stranger when it comes to driving fast behind the wheel as she recently reached her top speed of 201 mph in a new Jaguar F-Type SVR. And let's not forget the time she drove the 1,000 hp Corvette Z06 for her new tv show Riding Shotgun with Michelle Rodriguez.

Dennis McCarthy, vehicle coordinator for the film (and is that a tough job or what?), says he's rounded up a great collection of slick rides for the eighth installment in the popular series, so great in fact that the total value of the cars used in one scene was a whopping $17 million!
That scene includes a 1929 Ford Rat Rod, McLaren 675LT, Speedkore Kuda, Twin Turbo Lamborghini, Ferrari F430, Rolls-Royce Wraith, and 1956 Chevrolet Bel Air.
"It's basically what I feel is probably the coolest cars we've put together for one scene," McCarthy said via Facebook Live, "and it's without a doubt the most expensive collection of vehicles we ever put in one place."

More details about the movie: it's being directed by F. Gary Gray (of Straight Outta Compton fame) and besides Rodriguez, the cast features Vin Diesel, Dwayne Johnson, Tyrese Gibson, Chris Bridges, Lucas Black, Kurt Russell, Scott Eastwood, Jason Statham, Charliez Theron and Helen Mirren.
They're gettting plenty of travel time around the globe, with shooting in Myvatan, Iceland, New York, Cuba, Cleveland, and most recently in Atlanta.

Source:
Michelle Rodriguez / Instagram via National Corvette Museum

Related:
[VIDEO] Michelle Rodriguez Drives a 1,000-HP Corvette Z06 on her .
[VIDEO] Driving the Fast Five 1963 Corvette Grand Sport
[VIDEO] Was that a Corvette Grand Sport in the Fast Five Super Bowl Commercial?